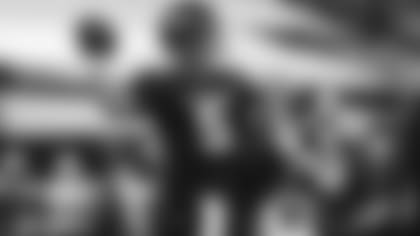 For three quarters, Joe Flacco was looking like it was 2012 all over again. He looked comfortable and well-protected in the Jets pocket, like he might have for that Baltimore team and not so much in his two starts for Sam Darnold earlier this season. And he was dishing the ball all over the MetLife lot in leading the Jets to their 27-17 lead over the Patriots through three quarters.
"It was definitely good to get a few games under my belt a few weeks ago and get over that hurdle in my mind," Flacco said following the 30-27 fall-from-ahead loss to the Patriots on Monday night. "I think physically I'm feeling better and better and better every game. We felt we had a good game plan going into this game. Guys executed it well. We felt damn good about how we played all night.
"That's part of the disappointment now, talking about how well we did play and not coming out with the win."
Flacco's and his offense's play against their 60-year division rivals was a variation of this season's oft-visited script of having a good first half followed by a tough second half. In Flacco's case, it was a 45-15 split.
For the first three quarters, "Joe Cool" fired a 50-yard scoring bomb to WR Breshad Perriman, a 20-yard end zone toe-tapper to Jamison Crowder, and another touchdown strike to Perriman, this time wide open in the end zone from 12 yards out. After three quarters, Flacco had completed 17 of 22 passes for 254 yards and those three TDs, to the tune of a nearly perfect 154.2 passer rating. He hadn't been sacked and hadn't turned the ball over. The Jets mounted 322 yards of offense.
Then came the fourth quarter. While the Jets defense couldn't get off the field in yielding three long scoring drives. And when Flacco and the offense got the ball, they had a one-play interception drive and a 3-and-out in trying to move to a game-winning field goal attempt.
For the quarter, Flacco was 1-of-3 for 8 yards and the INT with a 2.8 rating. The offense went four plays for 3 yards and no points. The Patriots' 13:36 in possession time was the most by an opponent in any quarter since 2010, also against New England, although the Pats' 13:58 opening quarter that day didn't derail a 28-13 Jets win.
"There was a lot of good stuff," Head Coach Adam Gase said of Flacco's night. "He made a lot of really nice throws. For the majority of the game, he did exactly what we needed him to do. It's tough if you night have one or two errors, you don't feel good about it. But I feel like he played pretty good for the most part. He had a dropped touchdown pass on that first series, then had some really good throws."
"When you're out there, man, you really have to leave the emotions of all that out of it," Flacco said of trying to seal the deal against the Patriots, who've had the Jets' number for a while. "That's the thing you repeat to yourself in your head when any game's going on but especially this game: Stay patient, stay locked in, do your job. I thought we did a good job of that all night. Maybe it fell apart there at the end.
"We just haven't been in these situations a lot this year, maybe this game and Denver. We have to get better at closing these games out."
Flacco had some ambivalence about the long ball he tried to drop into Denzel Mims' basket on the skinny post, only finding J.C. Jackson's hands as the New England DB quickly came over to create double coverage on the Jets' rookie WR.
"Obviously in hindsight I don't want to throw that pick," he said. "I was just rattling that one around in my head. I don't think I would've made a different decision in the moment, but I wish I had that one back."
The bottom line is that the Jets got closer to playing their most complete, most complementary game yet but still couldn't find that closing kick to get Win No. 1. Next up is the team's bye week, followed by a trip to Los Angeles to play the Chargers, who like the Patriots are struggling. Can the Jets keep the 'Bolts short-circuited or will lightning strike their best-laid plans again? And will Flacco get another chance to play a 60-minute man for the offense or will Darnold and his sore right shoulder be ready to take the ball back?
However Game 10 and beyond unfold, Flacco said the Jets have to replicate the approach they took to the Patriots and then extend it. Or else.
"Listen, there's challenges every single week. Right now we're 0-9 so we're dealing with a lot of those right now," he said. "I think we've done a good job throughout the week keeping our heads up, taking it one day at a time. It'll be up to the guys and the coaches on this team keeping that same mindset moving forward. There's seven weeks left in the season and if you don't come to work ready to go, this league will make it very long and hard for you to survive."