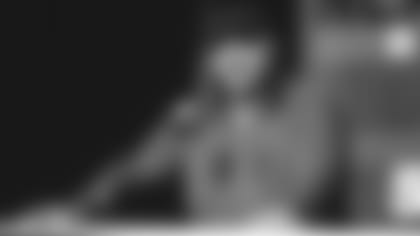 Certain words pop up again and again in football, not because the speakers are being redundant but because the words capture the tried and true concepts of how to build an NFL team.
Jets general manager Joe Douglas addressed team reporters and the national media as the NFL Combine kicked things off at Lucas Oil Stadium in Indianapolis and he took the opportunity to turn to one of those words frequently. And that word was, well, opportunity.
On how aggressive the Jets will be in free agency, which starts in two weeks, Douglas said: "There's a lot of different avenues, a lot of different tools to improve your roster. Free agency is one of those tools. So we have a good opportunity, we have assets that we've acquired, we have financial flexibility. So again, there's a lot of conversations that need to be had in the coming days and weeks before this kicks off, but we're going to get this team better in any way we can."
Then, pivoting to the Combine that serious initiates every team's road toward the late-April NFL Draft, Douglas said: "This is a really good draft in terms of the depth of the pass rushers, defensive line, offensive line, you could say even wide receivers, tight ends — this is a good draft.
"The opportunity to get any player that we feel can come in here and improve our roster and help our team, on a team-friendly deal, a draft contract, it's a huge thing. And it's a great opportunity for us, currently with picks 4 and 10 and four picks in the top 40, we have a real opportunity to add four dynamic difference-makers to this team."
Douglas even got into the "opp" angle with Robert Saleh and the Jets coaching staff. For the first in memory, the Jets coaches did not accompany the GM to Indy to get up close and personal to this year's 324 invited prospects but stayed back at One Jets Drive. This, too, Joe D described as a matter of, you'll pardon the word, opportunity.
"Obviously, we had a great kickstart to the offseason with the Senior Bowl," Douglas said about the Jets staff handling the National team in the annual all-star game last month. "Having that week — and it was an outstanding week — hats off to our coaching staff and our college scouting staff for coming together and getting great insight."
As a result, he said, "We had to adjust our February schedule a little bit. I'm in total agreement with Coach that this is a great opportunity for them not only to connect with us here virtually — they're part of every meeting that we're part of — and then it's almost the best of both worlds. They're able to stay back, work on the projects they need to work on as a staff. Really, it's an opportunity for them to have maximum efficiency this week."
Finally from Douglas, one more topic, kind of an offshoot of the free agency and draft questions. The GM provided words to the ears of all Jets fans about his desire to strike when the trading opportunity is hot, especially in this most important calendar year of 2022.
"Look, we're always open for business," he said. "I think in the last two drafts, we had experience going back and then coming up. Again if the opportunity is right, we're going to look at every opportunity as it comes. So if there's an opportunity to trade back, accumulate more picks, more assets, and still be in target range to get the players that we're excited about, of course we're going to consider that."