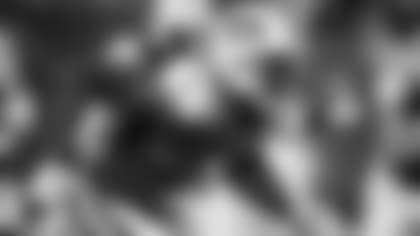 In his first game action since Week 9 of last season, Jets wide receiver Terrelle Pryor made his debut in green and white Friday and scored for the Jets in their 22-16 loss to the Giants at MetLife Stadium.
"It doesn't really matter about touchdowns unless you win," Pryor said. "There are a lot of things I have improve on. There were a lot of things I wasn't happy with today. I will get better and I will continue to get better."
Pryor caught two passes from quarterback Sam Darnold, including a 12-yard catch-and-run that put the home team up 13-7 with 14:14 remaining in the first half. Pryor ran across the middle, brought the ball in and kicked it into another gear, turning the corner and out-running two Giants defenders to the pylon to cap off a five-play, 47-yard drive.
"Sam threw a great ball. Our offensive line blocked it and the guys were running their proper routes," said Pryor, who downplayed his trip to the end zone. "It had nothing to do with me."
Pryor finished the night with two catches for 16 yards. The 6'4", 228-pounder, who could become a red zone threat for the Jets, wants to improve his blocking in the run game in addition to being consistent exploding off the ball. But the sixth-year veteran, who missed the entire spring with an ankle injury, said it was valuable to knock off some game rust before the regular season.
"It felt good," Pryor said of his return. "For me, it's been a whirlwind just fighting back from injury and trying to get back and play where I feel like I can be playing at. There are a lot of things I need to continue to get better at. I just have to keep getting better every day."
While Pryor took his first steps in stride, his head coach was pleased to have the big target on the field in game action for the first time.
"Happy to have him out there," said Todd Bowles. "He was smiling. I have to look at the run plays and see what his blocking looked like, but it was fun to have him out there. It was good to see him catch the ball after being hurt all last year, so that was a big plus."