Jets wide receiver Robby Anderson will play Sunday against the Broncos after being a full participant in Friday's practice. Anderson practiced on a limited basis Thursday with a hamstring injury, but head coach Todd Bowles didn't seem concerned regarding a potential lingering ailment.  
"He looked good," Bowles said of Anderson's practice Friday. "That's all we can go by."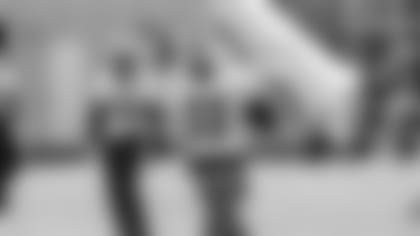 "They have excellent man-to-man corners," Bowles said earlier this week. "They're ball hawks. They have great insight in zone and they can tackle."
Full Injury Report
Veteran inside linebacker Demario Davis was excused from Friday's practice and will not travel with the team to Denver.  But Davis was listed as probable and is expected to play against the Broncos.
Running back Matt Forte (knee) and right guard Brian Winters (ankle/abdomen) are questionable for Sunday's contest. Outside linebacker Obum Gwacham will replace Bruce Carter on special teams this week as Carter is out with a groin injury.
Altitude
One of the biggest challenges for opponents playing in Denver is the altitude adjustment. While offensive and defensive players are affected more so from a breathing standpoint, Jets kicker Chandler Catanzaro is excited to let the ball fly in the thin air.
"It's supposed to be a pretty nice day, knock on wood," Catanzaro said of Sunday's forecast of 62 degrees and sunny. "We'll figure out my range pregame, but I think I'll feel comfortable letting one rip from 65-68."
The Cat Man hit a franchise long 57-yard field goal in Cleveland earlier this season and booted a career-long 60-yarder in Buffalo in 2016, so it's possible he could line up for a 60-plus yard field goal on Sunday. But despite having the opportunity to perform in the Mile High City, the fourth-year veteran is approaching Sunday like any other game.
"You have to be careful because if you start trying to crush it, you can develop bad habits," he said. "My main focus is to keep my fundamentals like they should be in pregame and hitting a clean ball. The ball should carry for me pretty well."
However, Jets running back Matt Forté prepared a little differently for his third trip to Denver (including preseason) in his 10-year career.
"We can do elevation training," Forté said. "We have an Alter-G treadmill in the training room with a mask that you can use. You can actually go to double Denver's altitude on there, so I'll be using the mask this week."  
Top Snapshots from Practice During Week 14