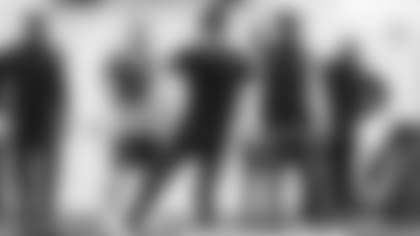 Robby Anderson is betting on himself and head coach Adam Gase in 2019.
The Jets wide receiver didn't shy away from his excitement to play for the new offensive-minded coach last Thursday at Gotham Hall following the team's uniform launch.
"As a receiver, it's like gold. It's a blessing and it's exciting because you know he has many great ideas and great things planned for me, and ways for me to execute and really show my talent," Anderson said of Gase. "I've been labeled a 'deep threat', but everybody who knows what I can do knows that's not the case. But he's really going to make me a great player, he's going to bring greatness out of me, and he's going to let me do things I haven't really been able to do and take me to that next level. And I'm confident in that."
After a breakout season in 2017 with 63 receptions for 941 yards and seven touchdowns, the Temple product wasn't quite satisfied with his 2018 performance that saw him amass 752 yards and six receiving touchdowns.
"We want to think of ways to get him the ball, ways to create variety in his routes," Gase told reporters at the NFL Combine back in early March. "Instead of just doing one or two things, maybe we can open that up to five, six, seven things to where he's a threat on multiple levels, whether it be underneath, intermediate or down the field."
The Green & White tendered Anderson in March and he believes the best is yet to come. The 6'3", 190-pounder shined during the final stretch of the regular season while averaging 20.8 yards on 20 receptions in Weeks 14-16 as he hauled in a touchdown reception against the Bills, the Texans and the Packers. With Gase taking advantage of his unique skill set, Anderson thinks there are even brighter days in front of him.
"He'll let me be an all-around receiver and give me those targets and let me play the game I could play," Anderson said. "Everybody knows what I'm capable of, I've done what I can do. But I feel like he's going to let me do it on a consistent basis and give me the work load that I'm working for and the workload that I deserve and I'm capable of."
Along with Anderson, Quincy Enunwa and Deontay Burnett return to the WR room. The Jets' offensive weapons also expanded with the additions of RB Le'Veon Bell, WRs Jamison Crowder and Josh Bellamy. With fresh talent and support surrounding him, Anderson believes a new era is at hand.
"I just feel like everything is coming together," he said. "It's just exciting."