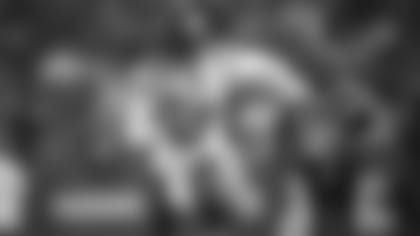 Jets WR Garrett Wilson continued his historic rookie season on Sunday in the Jets' 20-12 loss to the Bills, surpassing Keyshawn Johnson for the most receiving yards by a rookie in franchise history.
With 7:18 remaining in the fourth quarter, Wilson caught a pass from QB Mike White and displayed his skills after the catch with a 14-yard gain. Johnson had held the record for 26 years with his 844 yards receiving posted in 1996, but Wilson, the No. 10 overall selection in last April's NFL Draft, is now No. 1 among Jets rookie receivers.
"It means a lot," Wilson said postgame. "It would have meant a whole lot more if we win this game, and I can't lie, I was expecting to get that."
Wilson, who was targeted 7 times, was the Jets' leading pass catcher with 6 receptions for 78 yards. All of Wilson's catches went for first downs, including 4 third-down conversions.
Last week against the Vikings, Wilson tied a career-high with 8 receptions and totaled a career-best 162-yards receiving to become the first Jets rookie wideout to have 3 games with at least 100 yards receiving. Through 13 games, Wilson leads the Jets in catches (63), receiving yards (868) and receiving TDs (4).
"It's about winning," Wilson said. "I want to win. Personal accolades will be there regardless, but, if we win and it's going to come with it. And we didn't get the job done today."
The Ohio State product had 8 receptions for 92 yards in the Jets' first game this season against the Bills in early November. Wilson was effective again despite the return of the Bills' All-Pro S Jordan Poyer and Pro Bowl CB Tre'Davious White – both of whom did not play in the Week 9 game.
On third-and-10 with 5:42 remaining in the second quarter, Wilson ran a route to the sideline, beat White and reeled in a 12-yard pass along the sideline.
On the Jets first drive of the third quarter, Wilson ran a near identical route, dragged his feet before the boundary and took a hard hit from Poyer to convert a third-and-12. Wilson's catch extended the drive and led to Zonovan Knight's 13-yard TD run.
In two games against the Bills this season, Wilson was targeted 16 times and tallied 14 catches for 170 receiving yards (12.1 avg/rec).
"They took away what we like to do as an offense, especially the middle of the field," Wilson said. "They did it well. They had a good philosophy. Great players over there, some vets, and they did a good job."
Postgame, Wilson turned his focus to next Sunday's game against the Lions at MetLife Stadium.
"We left it on the field today and we came up short," Wilson said. "But we feel like we got a great squad. … We're going to go this week and put the work in and make sure that we try and start finishing games the way we should."