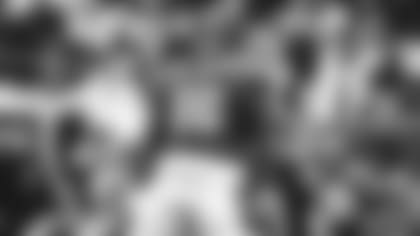 What's New
It shouldn't be a surprise that the Jets added to the defensive line in both free agency and the draft despite having an already-talented group.
"You guys know me, I've said it before, if we had the Fearsome Foursome, we'd still be wanting to add a pass rusher," HC Robert Saleh said at the Annual League Meetings in March. "It's always going to help. If the opportunity presents itself, we'll get it, but we're not going to force the position either."
GM Joe Douglas first added former Texans DE Jacob Martin, coming off a career-high 4 sacks in 2021. Solomon Thomas, the No. 3 overall pick in 2017, joined the Green & White and is reunited with Saleh, who coached Thomas in San Francisco from 2017-20. Thomas offers inside-outside versatility and had a career-high 3.5 sacks and 2 forced fumbles with the Raiders in '21. Douglas also re-signed DE Vinny Curry, who missed last season with a blood disorder.
It was a crowded room before the draft took place, but that didn't stop Douglas from adding a pair of pass rushers in Jermaine Johnson (first round) and Micheal Clemons (fourth round). Both draft picks started their collegiate careers at junior college before landing in the SEC -- Johnson at Georgia and Clemons at Texas A&M. Johnson transferred a second time after two seasons with the Bulldogs, landing with Florida State. He was named ACC Defensive Player of the Year in 2021, leading the conference with 12 sacks and 18 TFLs.
Players to Watch
All eyes have to be on Carl Lawson entering training camp. Lawson, who ruptured his Achilles tendon in a joint practice last August, is still waiting to play his first regular-season game with the Jets. He was the team's best player last training camp with all indications pointing to a career year. Lawson pursues any task relentlessly and his rehab is no different. He expects to return a better player than when he left the field in Ashwaubenon, WI.
"I'm extremely eager, extremely excited," he said. "I learned a lot just from the film. Yeah, I got hurt. It would've sucked either way. But it would've really sucked if I hadn't got all that film, if I had gotten hurt earlier in camp. Now I can say I can replicate this style. It'll be muscle memory, instead of just having to learn things all over. I was able to put stuff on film and watch it and I'll be able to grow from that."
Also keep your eyes peeled for Quinnen Williams. With an improved unit and the return of Lawson, Williams could have more opportunities to disrupt the quarterback with the attention elsewhere.
"I have a huge ceiling, man," Williams said. "I haven't reached the potential I feel I can reach yet."
Key Question
Lawson's health is the biggest question entering training camp, but how about who will replace Folorunso Fatukasi? Fatukasi, a Jets sixth-round pick in 2018, is one the league's best run-stopping defensive tackles and signed with the Jaguars in free agency. Defensive coordinator Jeff Ulbrich said Fatukasi's replacement is by committee right now. Other than Williams and Thomas, the Jets have Sheldon Rankins, Nathan Shepherd and second-year player Jonathan Marshall. John Franklin-Myers could also see more playing time inside. 
"We don't necessarily have the size that we had, but we've got guys who will absolutely strain and work their ass off and fight and scrap and we've got the right guys in there," Ulbrich said. "We'll continue to work with those guys. The attack front and the way that we're built, it's such about explosion, jumping off the ball, it's about getting on their side of the line of scrimmage. So, sometimes being a little bit smaller isn't the worst thing on earth as far as our front is concerned."