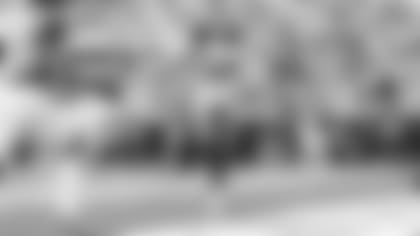 The Jets' offense had a feast-or-famine-type performance in their 29-15 loss to the Jaguars and TE Ryan Griffin was at the forefront of the group's success. Griffin led the Jets with a season-high 66 receiving yards on four receptions and scored the team's two touchdowns and two-point conversion.
Despite Griffin's performance, the offense struggled once again, totaling 213 yards, turning the ball over three times and converting just 22% of their third-down tries.
"This locker room is full of high-character guys. We're going to stick together and get this thing right," Griffin said. "We played well in certain drives, we just have to string those together offensively. I know the defense is going to be working out their stuff. We're going to have a hard week of practice this week."
Griffin and the offense came out of the gate hot and he capped off a 12-play, 93-yard drive on the Green & White's first possession that gave the team a 7-6 lead. The 6'6", 255-pounder caught a short curl from Sam Darnold on the right side of the field, made a move on Jags LB Austin Calitro and scored on a 24-yard catch-and-run.
"I think it starts with starting fast," he said. "If we have a positive play on first-and-10, if we get that, we're rolling. We get on the ball, go up-tempo and the defense is kind of winded a little bit. We just try to push the tempo, but we couldn't get those drives rolling in the middle between the two touchdowns when we really needed it."
On the Green & White's next possession, Darnold again hit Griffin for a tough over-the-middle grab. While the offense couldn't muster any points in the second and third quarters, it was Griffin that put the Jets back on the board in the final frame with a 3-yard touchdown reception that cut the Jaguars lead to 22-13. The seventh-year pro lined up on the right side of the line, made his way across the goal line and Darnold hit his target.
Griffin's ensuing two-point conversion catch cut the Jags' lead to 22-15, making it a one-possession game, with 13:13 remaining in regulation. Jamison Crowder darted in motion right before the snap and Darnold rolled to his right before firing across his body to Griffin, who found space in the middle of the back of the end zone. Despite fighting back, the Jets couldn't find the end zone again.
"It's a loss. It's disappointing," Griffin said. "We thought we had a comeback coming after my second touchdown. It felt like we had it rolling. Unfortunately, we didn't play complementary football today. We have to go back to the drawing board and get better."