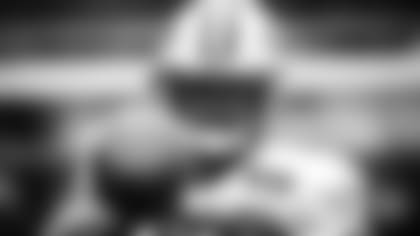 For a rookie who's yet to play in a professional football game, the Jets' upcoming matchup against the Giants is not a bad place to start for TE Chris Herndon. After sitting out the first two preseason games due to injury, head coach Todd Bowles expects Herndon to make his preseason debut Friday night at the MetLife Bowl.
"I'm very excited," says Herndon. "Now that I'm feeling good again, it's exciting to finally go out there and play in my first NFL game."
The 2018 fourth-round pick has found himself in a positional battle that Bowles has identified to probably be "the toughest to evaluate because all five can play." Herndon has shown flashes in practice and received high praise from fourth-year TE Clive Walford.
Walford, who overlapped at the University of Miami with Herndon in 2014, has recognized the rookie's ability to run, catch, and block, and has also praised his limited mental errors. With the tight ends having an increased role in OC Jeremy Bate's new offense, Herndon is focused on taking advantage of every opportunity presented.
"We just do our best to try to make plays when our name is called," he said. "Outside of the passing game, the running game we have to continue to be consistent with that because we have to be able to do both."
Although it will be his first NFL game, the 6'4", 250-pound triple-threat won't be the only rookie on the field Friday night. First-round QB Sam Darnold will be commanding the huddle and utilizing the TE group, along with others, as a crucial part of the offense. Darnold is an individual Herndon has developed a strong relationship with.
"Around the facility, if I ever have questions about the offense, he's quick to help," Herndon said. "He's not a selfish person. He goes out of his way to make sure you know what you're doing."
After connecting many times in practice this summer, Darnold and Herndon could become a duo to watch tonight and for years to come.