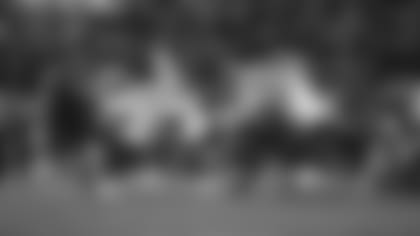 The Jets special teams turned in their best performance of the season in Thursday night's 42-21 loss in Baltimore.
"The special teams really got after it tonight," said Tarell Basham, who blocked a Ravens punt in the fourth quarter. "Kick return turned it up today and got some great blocks to open up the lanes for these guys to run. They kept side kicking and giving us opportunities to take the ball out and we got as many yards as we could. We were able to set the offense up with some good position a few times out there."
Ty Montgomery and Vyncint Smith set up the Jets offense with good field position on its first three drives. Montgomery took the opening kickoff 34 yards to the Jets' 31-yard line. After Mark Ingram put the Ravens up 7-0 with 7:55 remaining in the first quarter, Montgomery returned the ensuing kickoff 31 yards to the Jets' 36-yard line. Baltimore decided to kick to Smith, and away from Montgomery, on its next kickoff and Smith returned it 37 yards from the goal line. But the Jets only scored 7 points on their first three drives -- Sam Darnold hit Jamison Crowder for a 4-yard TD on the sideline.
Braxton Berrios returned a punt 21 yards to Baltimore's 41-yard line with 1:03 remaining in the half trailing, 21-7. But Darnold threw an interception four plays later. Berrios, who leads the NFL in punt return average (10.2), returned three punts for 48 yards (16.0-yard avg) against the Ravens.
"Honestly it was a great job by everyone in front of me," Berrios said. "That's really a culmination of me catching the ball and 10 other guys doing their job and doing it at a very high level."
Basham blocked Ravens P Sam Koch's punt in the fourth quarter and LB B.J. Bello scooped the ball and ran 14 yards for the score to cut Baltimore's lead to 35-13. Bello's TD was the second special teams score this season.
"Boyer had a good game plan for this snapper," Basham said. "He knew he could get after him, so he lined me over him and let me rush him as hard as I could. I was able to put him down and then get a hand on the ball. He's been talking about getting a blocked punt. He's wanted to put some pressure on and we saw a great opportunity. I'm glad he made the call he did."
Five plays earlier, Jets P Lachlan Edwards's 57-yard punt was downed on Baltimore's 3-yard line. Edwards averaged a season-best 51 yards on four punts, two of which were downed inside the 20-yard line.
"I think I've been rushing a little bit this year, so I took my time with my swing and everything," he said. "I thought I hit the ball pretty well and the gunners really covered well, so they didn't have much of a return game at all."
It wasn't all rosy for the special teams, however. Kicker Sam Ficken's 49-yard field goal try was blocked by Patrick Ricard, and Ficken later missed an extra point after the punt-block-return TD.
"The whole team fought, but the special teams definitely did their end," Berrios said. "We always preach about fighting to the very end no matter the score and I think you saw that."