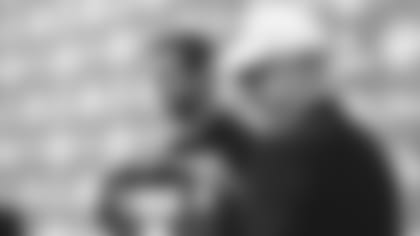 This is one in a series of articles that will also appear in the New York Jets 2023 Yearbook, which will be published this summer.
Jets Chairman Robert Wood Johnson has winning on his mind all the time.
"I'm not the patient sort, really," he said this spring. "We've got to win — we're in the win business. So we have to win now."
After many watched the synergy between GM Joe Douglas and HC Robert Saleh in addition to the development of the young roster last season, the feeling in league circles in March was that the Jets were on the cusp of becoming a contender.
"We have a great team, we have a great nucleus of young players who are getting better every day," Johnson said. "But you have to get better faster because every team gets better in the NFL."
The Jets improved significantly on defense, rising from 32nd in the NFL in total yards, points and first downs allowed and 30th in passing yards yielded to fourth, fourth, third and third respectively. Johnson would like to see a similar jump from an offense that was 29th in scoring (17.4 points/game), 26th in first downs (17.3) and 25th in total yards (318.2).
"Last year gives you confidence they can do it because they did go from last to kind of first and what was really lacking was the offense — we couldn't score points. You've got to be able to score those points in the red zone and so on," he said. "We've got to be more efficient."
And the Jets figure to be more efficient on offense with Aaron Rodgers leading the way. With the support of Ambassador Johnson and Vice Chairman Christopher Johnson, Douglas secured a spring blockbuster trade that brought one of the NFL's most accomplished players to the Green & White.
"This is a happy day for my brother and me, for the organization here, and especially for Jets fans all over," Johnson said. "The fact that we're here today is really a testament to what the coach and the general manager and the staff have built over the last two years, the culture that enabled us to attract somebody of the caliber that we're looking at right now, Aaron Rodgers, future Hall of Famer. Aaron is a tremendous player — that's an understatement. He makes everybody around him better. We're so happy to have him."
Johnson, who often refers to himself as the team's custodian, is determined to deliver for his hungry fanbase.
"I'm going to do everything I can to make it happen for them — no stone unturned," he said. "Saleh will do it, and Douglas will do it, the coaches will do it. The people in this building are amazing."