The Jets kicked off the second day and the second round of their 2014 NFL Draft by selecting Jace Amaro of Texas Tech, the draft's top pass-catching tight end, with the 49th overall pick.
Amaro was asked by newyorkjets.com senior reporter Eric Allen if he was surprised to still be available for the Jets in the middle of Round 2.
"Yeah, but at the same time I'm very fortunate and glad that the New York Jets picked me up because that's the place where I wanted to be," he said. "Going into the predraft, that's the place that I felt was the best fit for me and I just felt at home whenever I visited New York, so I'm really grateful for that."
He expressed the same feelings in a single-sentence tweet he sent to Jets fans after his selection:
Amaro (6'5", 265) is an outstanding addition for head coach Rex Ryan and for coordinator Marty Mornhinweg's West Coast offense.
"I think I'm going to fit in really well," he said. "I think this is a great opportunity for me to showcase my skills. I think [Mornhinweg] has a great plan for me. He's going to move me around a lot, something that I did, but they want to go a lot of two-tight-end sets and play cat-and-mouse with the defense. I think with me that's something I can really do and I'm really excited about it."
Lining up predominantly in the slot, Amaro set the NCAA single-season records for tight ends with 1,352 receiving yards and 104.0 yards per game last year as a Red Raiders junior. He also notched the second-most receptions in a season by a TE with 106.
Needless to say, those numbers led all FBS players at the position last season. No. 2 in receptions, for example, was Eric Ebron, the 10th pick of the draft out of North Carolina by the Lions, who had 62 catches.
As a result of his receiving prowess, after the season he was a unanimous All-America selection, an All-Big 12 first-teamer, and a semifinalist for the John Mackey Award that goes to the best tight end in college football. After the Red Raiders' upset win over Arizona State in the Holiday Bowl, he declared his intention to enter this year's draft.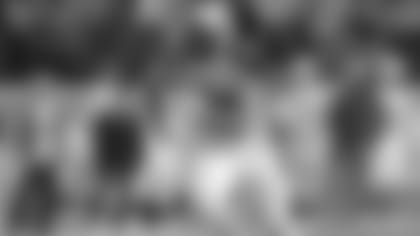 Chad Pennington, the former Jets quarterback taken with the 18th overall pick of the 2000 draft, was the Green & White alumnus who read our selection of Amaro to the fans at Radio City Music Hall. Amaro is certainly a target Pennington wouldn't have minded having during his 2000-07 stint as a Jet. And as NFL Network's Mike Mayock said, Amaro "is a talented young man and a young quarterback's best friend."
Jace Jordan Amaro is the sixth Texas Tech player ever drafted by the Jets, the earliest ever taken, and the first Red Raider selected since CB Marcus Coleman in 1996. He's also the first Tech tight end drafted in the last 44 years.
Besides football, Amaro was a three-sport star at MacArthur High School in San Antonio, TX. He was a USA Today All-America first-team tight end for the football team, a basketball forward and a shot-putter and discus thrower for the track and field team.
Jets 2nd Round Draft Pick: With the 49th overall pick of the 2014 NFL Draft the Jets selected Tight End Jace Amaro from Texas Tech