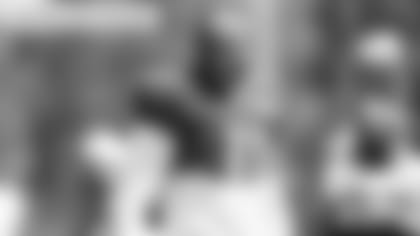 After his rookie season, Jets edge Jermaine Johnson , a first-round pick in the 2022 NFL Draft (No. 26 overall), said he knew he had work to do.
"My dominance usually popped off the tape, I usually looked like one of the best players on the field," Johnson, 24, said after practice on Thursday. "But I didn't feel that last year. So I went to work."
He hit the weight room and returned a chiseled 6-5, 254 pounds -- bigger and faster. His coaches took notice.
Early in training camp defensive coordinator Jeff Ulbrich was impressed.
"He's really taken his game to the next level," Ulbrich said. "I see a hunger in his eye and a focus that maybe wasn't there, as consistently as it is for most rookies. He's really trying to be the all-around end, which is really hard to find nowadays. You got rushers, you got run stoppers. Typically, you don't have guys that do both really well and I think he's really focusing on being that guy and some really encouraging signs out there that he is that guy."
In 14 games last season, Johnson had 29 tackles, 3 TFL, 2.5 sacks, 5 QBs, and 11 QB pressures. He also blocked a punt at Buffalo that bounded out of the end zone for safety. For all the promise and effort, Johnson was limited to 34% of the defensive snaps while also taking 29% of the snaps on special teams.
As the third of the Jets' first-round picks in the 2022 draft, Johnson watched as Garrett Wilson won the Offensive Rookie of the Year Award and Sauce Gardner ran away with the Defensive Rookie of the Year Award. Johnson didn't quite feel forgotten, but a limited role wasn't what he had in mind.
"I was just happy for them [Wilson and Gardner], they made the most of their opportunities," he said. "I believe I made the most of my opportunity. I'm always going to be hungry, I want to dominate and be seen as that dominant player, a player offenses have to scout for. I did the work in the offseason. I know when I'm at my best the team can be at its best and get the most out of me."
It might have struck people as trivial last season, but Johnson said that playing in the No. 52 jersey didn't feel right. He pined for his number in college, at Georgia and Florida State, and this season he's back in his favored No. 11. Whatever digits he has on his shirt, head coach Robert Saleh spun out a litany of superlatives on Thursday as he spoke about Johnson two days before the final preseason game -- against the Giants on Saturday.
"He's been able to sustain and keep his weight," Saleh said. "He's made plays in games, he's made plays in practice. He looks fantastic. I'm excited for him to get to the regular season so he can translate all that. He's done a really nice job and you just cheer him on and hope he keeps taking those steps.
"He's old school, he's a three-down run defender, edge rusher and I'd argue his ability in the run game is even better than his ability in the pass game. It's not to knock. He's very violent at the point of attack, especially if he's got a tight end in his hands.
Saleh added: "He plays with a violence to him, he definitely plays with an edge to him. To play on our D-line strain is a required skill set. He absolutely strains his tail off. He's a very violent, nasty human in the run game."
Johnson is part of a deep defensive line, one of the team's strongest units. The competition is fierce and Ulbrich and Saleh like to keep their guys fresh. But Johnson echoed Saleh when he said he wants to be on the field ... all the time.
"Ever since I was little, I was always obsessed," he said. "I want to be as good or better [than anyone], I want to be the strongest, fastest player. Play the run like a DT and I always wanted to be best at everything. It shows up in my game. I want to be on the field every play, the kind of player who plays every down on the field."
He added: "I'm always down to learn, and to be honest, I feel like I'm always the guy. Last year I was sitting back a bit and not having as much opportunity. You could look at it two ways -- be butt hurt or be your biggest critic and fix what you need to fix so when the opportunity rolls around you're ready."
Jermaine Johnson is ready.