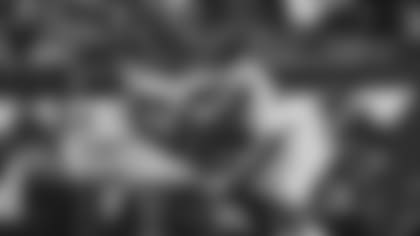 Robby Anderson continues to heat up as the 2019 season winds down.
In the Jets' opening drive of their 16-10 victory over the Steelers at Giants Stadium on Sunday, Anderson reeled in a 23-yard TD catch in double coverage to score the team's single TD of the game."It was the coverage," Anderson, 6-3, 180-pound wideout said on why the play worked so well. "They were kind of sitting underneath and it was a good ball. I made a strong catch, held on and got down in the endzone and scored."
Heading into the matchup, Anderson led the team with 729 receiving yards. He tacked on an additional 32 in the final home game of the year, bringing his total to 761 yards this season. He is also tied with TE Ryan Griffin and WR Jamison Crowder for a team-high 5 TDs. In Weeks 10-16, Anderson has picked up momentum, scoring 4 of his 5 touchdowns and reeling in two 100-plus yard receiving games.
"I think a lot of it was early on in the year it was still all new to us," Anderson said of the offensive progress. "It was a new scheme, new offense, learning each other as players and coaches, and still learning the plays. We were just trying to get into that rhythm."
Anderson has thrived and grown under the tutelage of the former Steelers' WR Hines Ward, now a Jets assistant coach. After starting out as a Bill Walsh coaching intern this past summer, the former Pro Bowler was later hired by the Green & White as an offensive assistant, with a focus on the receiving unit. Anderson had high praise for Ward in training camp, referring to him as a "great resource."
"He's extremely talented," Ward said of Anderson. "The guy is probably our most explosive player on the team. But I always drill into Robby's head that you want to be a complete wide receiver. You don't want to be a one-trick pony where we're just sending him deep all the time. So, working with his route running and things like that, getting proper depth, and making those 50/50 catches that he's been making lately."
Anderson finished Sunday's game with 2 receptions for 32 yards and 1 TD against a Steelers defense that had been ranked No. 4 in total yards allowed (307.4) and was No. 5 in total passing yards allowed per game (204.1).
"They're a really good defense," Anderson said. "They're very physical, big, smart players all across the board. I have a lot of respect for them. It was a challenge. It wasn't a walk in the park. It was a hard-fought win. They're a good team, especially defensively."