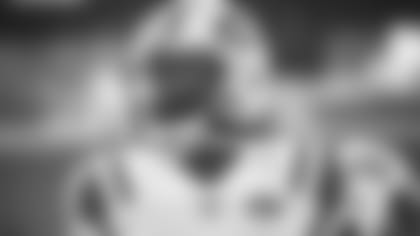 The Jets have released running back Isaiah Crowell, who spent his fifth NFL season with the Green & White in 2018.
Crowell came east to sign with the Jets a year ago after four solid seasons carrying the ball for the Cleveland Browns. In his first five games, it appeared the Jets had found their next featured back.
In the Monday night season opener at Detroit, Crowell galloped for 102 yards on 10 carries, which included a 62-yard touchdown burst late in the third quarter, the final score of the Jets' remarkable 48-17 win over the Lions.
He had three quiet games, then in the Game 5 home win over Denver he created an even bigger explosion by rushing for 219 yards on 15 carries. Among the distinctions in that game:
Crowell's 219 yards broke the franchise single-game record of 210 yards set by Thomas Jones in 2009 in a home overtime loss to Buffalo.
His 77-yard second-quarter touchdown was the second-longest TD run in franchise history, just missing Bruce Harper's 78-yarder vs. Atlanta at Shea Stadium in 1983. And coupled with his dash at Detroit, Crowell became just the second RB with two 60-yards-plus TD runs in a Jets career, first accomplished by Leon Washington in a five-game span in 2008.
With 12 more yards on one reception, Crowell's 231 scrimmage yards also broke the franchise single-game record of 228 yards set by Don Maynard at Oakland in 1968 and equaled by Curtis Martin vs. Pittsburgh in 2003.
His 14.60 yards/carry set the NFL mark for best average in the 132 individual 200-yard rushing games since 1970.
He led the second-largest rushing-yardage advantage in a game in franchise history. The Jets rushed for 323 yards, 231 more than the Broncos' 92. The franchise mark was set in the 2010 regular-season finale when the Jets outrushed the Bills by 239 yards, 276-37, with the late Joe McKnight showing the way that day with 158 yards on 32 carries.
Crowell didn't spark much after that, clearing 50 rush yards only once in his last eight games, when he ran 21 times for 98 yards at Tennessee. Ankle, foot and toe injuries bothered him from Game 6 vs. Indianapolis forward and he finally went on Injured Reserve after Game 13, failing to play in all 16 games in a season for the first time in his career.
He finished the season with team highs of 143 carries, 685 yards (4.8 yards/carry) and six touchdowns, plus 21 receptions for 152 yards (7.2 yards/catch). He didn't fumble in any of his 165 offensive touches.