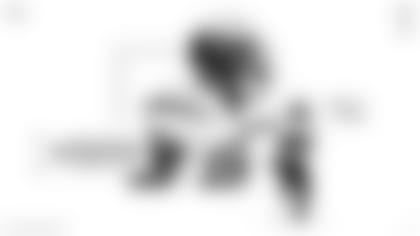 Jets RB Breece Hall was named the NFL's Pepsi Zero Sugar Rookie of the Week for Week 6 after his dominant rushing performance helped lift the Jets to a 27-10 victory at Green Bay last week.
Hall (6-1, 220) surpassed the century mark on the ground for the first time in his NFL career with 116 yards and a touchdown. The performance made him one of two rookies (Dameon Pierce is the other) to rush for at least 116 yards in a game this season, and Hall is the sixth Jets rookie since 1970 to accomplish the feat.
"I feel like people, a lot of people expected that it would be a surprise that we if we won this game," Hall said. "But we expected to come in and win this game."
Leading by 7 points at the start of the fourth quarter, Hall found the end zone from 34 yards on the period's opening play. The play was designed to be a reverse pass, but after Hall saw the defense over run the play, he and took off down the field and put New York up, 24-10. It was the longest rush of Hall's young pro career.
"It was supposed to be a reverse pass," Hall said. "So, I was supposed to pitch it to Garrett [Wilson]. "But I felt the defensive end was too far up field, so I couldn't get the pitch off. I just saw daylight and allowed my natural ability to take over."
Hall also caught 2 passes for 5 yards to give him 121 scrimmage yards last Sunday and 609 for the season, the most of any Jets rookie through six weeks since Matt Snell had 692 in 1964, and 10th most in the NFL this season.
"Even though I still felt like I left some yards out there, it was just me be being patient and trusting the O-Line," Hall said. "Those guys played like dogs today [Sunday] and they helped me and Michael Carter out tremendously."
Jets QB Zach Wilson was thrilled by Hall's performance at Lambeau Field.
"We knew going into this game these guys were great in the secondary we knew we needed to be able to run the ball," Wilson said. "And [Hall] stepped up to the challenge. … Those guys up front, the line of scrimmage was moving, and the backs were hitting hard."
Hall also won the same award in Week 4 after rushing for 66 yards and a touchdown against Pittsburgh. A Jets rookie has won the award four times out of the first six weeks this season. WR Garrett Wilson won in Week 2 after having 102 yards 2 touchdowns against Cleveland and CB Sauce Gardner won in Week 5 for grabbing his first career interception versus Miami.