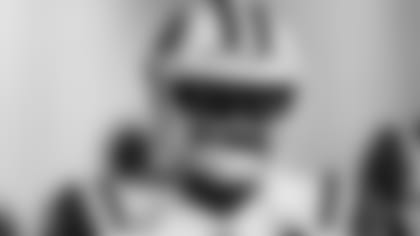 It shouldn't come as a surprise that Bilal Powell didn't have any flashy goals when the Louisville running back was selected by the Jets in the fourth round of the 2011 NFL Draft.
"Just coming in and doing the best that I could for an organization that chose to pick me in the fourth round," Powell said. "And here I am right now. Year eight and still with the mindset."
Year eight is not a typo. Powell is the longest tenured New York Jet and he will turn 30 on Oct. 27th.
"Old," he chuckled when asked how he feels about his longevity. "It's just a blessing to still be here, to see the guys come and go, guys who were professional on and off the field just come, and I'm still here and I'm still hanging around."
The Lions might beg to differ with Powell's hanging around description. The 5'10", 204-pounder was as spry as ever in Monday night's 48-17 rout while rushing for 60 yards and averaging 5.0 yards a carry.
"The older I have gotten, the game has gradually slowed down for me," Powell told me days before the 2018 season got underway. "Just understanding blocking schemes and knowing where my guys are going to be. Film study helps out with patience and just being true to your reads on your run and trusting the blocking scheme and pre-snap reads. Just knowing where the ball is going to go before the snap."
Powell figures to share the load with Isaiah Crowell in 2018 and the latter was one of the many Jets' stars in Week 1. Crowell, who played in all 64 games the past four seasons with the Browns, carried 10 times for 102 yards with had two scoring runs in the Motor City.
"Crow has been consistent throughout his career," Powell said. "He's actually a durable guy. I don't think he missed a game throughout his years over in Cleveland. Just looking from the couple of snaps he had in preseason, he's a bruiser and that takes a toll on a defense going downhill. Then you'll able to hit them with the outside zones and the stretches and the misdirections and stuff like that."
Powell continues to take a toll on opposition defenses, dissecting with vision and patience and then violently attacking each hole.
"It's slow to, fast through," he said. "That's what I was taught by a great coach, (former Jets RB coach/LA Chargers head coach) Anthony Lynn. You have to be patient to the hole and when you see it, you hit it. In this league, it opens and closes very fast. You want to win at the line of scrimmage, you want to win pre-snap."
For his career, Powell has averaged 4.4 yards a carry and he's also totaled 194 receptions. He remains one of the most sturdy blockers you will find at the position. He has showed zero signs of slowing down and last year set career highs with 772 rush yards and five touchdowns on the ground.
"I'll be 30 and that's a blessing in itself," said the Lakeland, FL native who thought he was going to bleed to his death after he was stabbed in a street fight when he was 16. "Just being 30 in this league and knowing the statistics of running backs' careers. Just being able to suppress that 3.5 year average was already something that was big for me, but here in year eight, you get a chance to mentor some of the younger guys that come in and have a bright future can play for longer than I'll probably play."
It's difficult to remember Powell not producing, but he only played two games his rookie campaign and had 13 carries. He was mostly an observer behind Shonn Greene, LaDainian Tomlinson and Joe McKnight, but Powell used his timely wisely and paid special attention to Tomlinson's professional approach. Seven seasons later, Powell is setting the example for speedster Trenton Cannon, a sixth-round burner from Virginia State.
"Play fast but not in a hurry, especially with a guy who is fast as he is. He has the speed to set up and be patient and create holes for himself," he said. "Being a smaller back, he has to rely on is patience and his speed. Just hold onto the football and you just go play. You be consistent, you eliminate the errors, and just go play fast and you look up and you're in year eight."
But it's not that easy. Each offseason, Powell trains in Louisville, Kentucky and finds new ways to work on his explosiveness. When he's not soaking up time with his wife, Jessica, and their two children, Powell might be running hills or working with the resistance bands or stretching or participating in yoga. And despite his success, Powell remains open to tinkering with his approach.
"I know I'll never be as fast as I once, but just approaching the game and continuing to learn the game.," he said. "There is still a lot of football out there I feel like in my tank and I'm just blessed to just continue to be here and be a Jet."
The 1-0 Jets open at home Sunday against the 1-0 Dolphins and Powell will get some of the loudest cheers from the Green & White faithful. He is humility and grace but a fire burns deep in his heart that has always connected him to a fanbase that demands effort and production.
"What you see is what you get from me," he says. "I come in, I keep my head down, I do what I'm told and I guess that is one of the things that has kept me around for so long. The fanbase, Jets Nation, we have some crazy fans and it's just time for us to put together some wins."