Trip to the Black HoleThe Jets will conclude their first two-game road swing to start a season since 1992 when they visit the Raiders Sunday. Equipped with one of the NFL's most talented rosters, Oakland has opened up as a two-touchdown favorite over the new look Jets.
"Nothing in this league is easy," said ILB Demario Davis Monday after he registered eight tackles and half of a sack during the Green & White's 21-12 loss to the Bills. "That's why you have to be a pro. You have to get past the first one — win or loss — and go onto the next one. Get it corrected, turn the page and onto the next one and prepare for Oakland."
The Jets will have a full week of practice in Florham Park, NJ before heading out to Northern California on Friday.
"It's going to be a tough test for us, it's going to be a tough challenge," added Davis. "Not just going against a tough team but traveling across the country. Make sure your body's right, make sure you're hydrated and make sure you're firing on all cylinders. It's going to be a challenge, but we have a good group to get it done."
Lighten the BoxFaced with a loaded box in Buffalo, the Jets were limited to just 38 rush yards on their 15 attempts. While veteran QB Josh McCown completed 67% of his passes and hit newcomers Jermaine Kearse (7-59) and Will Tye (3-34) a combined 10 times, most of his completions were short and the offense finished 4-of-14 on third down. McCown said they have to avoid third-and-longs while head coach Todd Bowles indicated the Jets will try to lighten the box with some more vertical passing.
"We had some called. Obviously, we couldn't get to them either by coverage or protection, but we had some shots called and we'd like to do that more," Bowles said. "In the future, we will."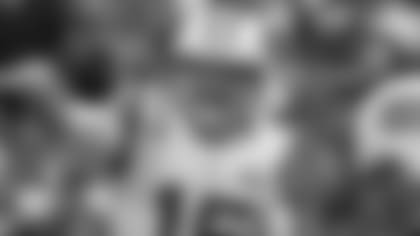 Homecoming for Beast ModeMarshawn Lynch will make*his home Raiders debut in what should be a raucous Oakland-Alameda County Coliseum. *The Oakland native was used in a closer's role last week in a 26-16 triumph over the Titans, running for 76 yards including a trucking of DL Jurrell Casey. Meanwhile the Jets are in rebound mode after allowing the Bills to run for 190 yards as they blamed a lot of their uneven play on missed assignments and poor gap control. While LeSean McCoy is a scintillating cutback runner, Lynch is looking to get downhill in a hurry. The Raiders might put the ball in Derek Carr's hands early to test New York's talented rookie safeties and later turn to their beast.
"Once he gets going one direction, he's going to keep putting his foot down and keep going," said DL Leonard Williams of Lynch. "It's going to take all 11 of us on defense to pursue to the ball, gang tackle and just play together. Everybody do their jobs."
Monster MackLast season, the Raiders ranked 26th in total defense and last in the NFL in sacks with 25. They started a pair of rookies in Week 1 in DT Eddie Vanderdoes and MLB Marquel Lee, but the strength of this unit is on the edges. Bruce Irvin, who has 29 career sacks, possesses terrific speed while star Khalil Mack, the NFL's Defensive Player of the Year in 2016, was just given Pro Football Focus' top Week 1 grade for edge rushers.
"He's a very talented individual, one of the best edge rushers if not the best edge rusher in the league for a reason. He does a great job of getting guys off balance, a very intelligent rusher, has a great combination of size and power," said LT Kelvin Beachum.
Special StartBrant Boyer's special teams unit had an excellent effort in Buffalo. K Chandler Catanzaro nailed a pair of long field goals and three of his kickoffs went for touchbacks, P Lachlan Edwards averaged a net of 43.7 yards, coverage units were solid and Kalif Raymond also produced a 25-yard punt return (Raymond did avert disaster on a couple of occasions as he recovered his own fumbles). And the Raiders, who opened up the season with K Sebastian Janikowski on the Reserve/Injured List, awarded a game ball to Giorgio Tavecchio after he set a franchise record with 14 points in his pro debut. The Italian born placekicker became the first player since the AFL-NFL merger to connect on a pair of 50-plus yard field goals in the same game.