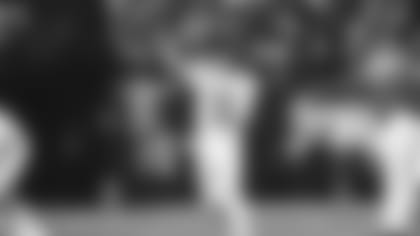 There was no heart-stopping, winning comeback for QB Zach Wilson and the Jets on Sunday night against the Las Vegas Raiders. Only drives that fizzled and imploded because of too many mistakes.
"There's so much frustration, I don't know how to put it any other way," Wilson said after the Jets' 16-12 loss, their second straight after a three-game winning streak. "The hard thing is I know everyone is battling. We just have to find a way to be better out there."
Wilson valiantly tried to engineer the fifth game-winning drive in his three-year NFL career, but a desperation pass at the end fell incomplete, leaving the Jets with a 4-5 record ahead of next Sunday's return match against the Buffalo Bills.
Even though the Jets continued to struggle to find the end zone, they were in the game with 6:06 to go when Ashtyn Davis recovered a fumble by LV's Josh Jacobs as the Raiders were driving for an insurance score. Wilson connected with five different receivers as the Jets moved 56 yards on 11 plays to the Raiders' 20-yard line with 1:22 to play. But that's when Vegas linebacker Robert Spillane swiped a pass intended for Allen Lazard.
"I thought the linebacker made an unbelievable play," Jets HC Robert Saleh said.
On the interception, Wilson said: "I have to be better there. I knew 41 [Spillane] was around, we had to beat him. I thought I could get the pass in there. It hurts. We made some hard plays to get there and to throw an interception to lose a game sucks." It was the first pick of a Wilson pass in his last 154 attempts.
The single miscue overshadowed Wilson's overall solid game. He connected on 23-of-39 passes for 263 yards and also was the team's leading rusher, picking up 54 yards on 4 carries (13.5 yards a carry). He became the first player in Jets history to record 250 passing yards and 50 rushing yards in a single game. Overall, Z. Wilson played crisply, converting 7 of 16 times on third down. He used a quick release to connect with Garrett Wilson 9 times for 93 yards and with TE Tyler Conklin 7 times for 70 yards.
With the Jets ahead, 6-3, early in the second quarter, S Jordan Whitehead collected his fourth interception of the season, putting the Jets in business at the Vegas 24-yard line. After two short gains by Breece Hall and a short pass to G. Wilson, Z. Wilson was smoked out of the pocket and took off down the near sideline. He dove inside the pylon for an apparent touchdown, but a replay determined that he had stepped out of bounds at the 3. The 20-yard scramble tied for the second-longest run of his NFL career, behind a 52-yard scramble for a touchdown against Jacksonville in December 2021, his rookie season.
On the next play, Hall powered in for yet another apparent go-ahead TD, but it was nullified when TE C.J. Uzomah was flagged for holding.
"I was looking to step out, I didn't want to get hurt," Z. Wilson said. "They gave me a lane to dive there and protect myself. I knew I was close on to the sideline, unfortunately I stepped out. We scored on the next play, but it was called back on a penalty. We've got to find a way to be better.
"It literally feels like every good play we have is getting called back. It's so frustrating now. I know how important every drive is and I would hope the guys out know the call. We have to find a way to be better in those situations."
Even after the late interception, the Jets managed to get the ball back with 53 seconds left. But there would be no miracle finish, like the one Z. Wilson and the Jets engineered in the final 24 seconds of regulation against the Giants.
"The hard part for me watching the game, it's easy to look at the play-calling, the quarterback," Saleh said. "We moved the ball today, but there was just dumb, dumb stuff that needs to get cleaned up. If given a chance to play clean football, we look pretty good."