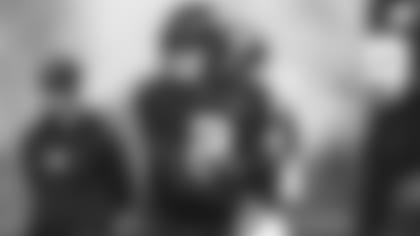 Accuracy, thy name is Zach. At least for the past two games and hopefully for weeks to come.
"Yeah, it definitely helps," Jets QB Zach Wilson said Thursday about how his accuracy has affected his confidence. "Just getting completions in general I think helps. Knowing what's going on, knowing what you're doing, knowing what you're trying to execute, seeing what the defense is giving you, I think it helps all the way around, which is just with your confidence and being able to play fast."
Wilson still has a way to climb up the QB ranks in various metrics, but he's gotten plenty of plaudits the past two weeks, for his solid performance in the loss to Kansas City and in his more passing-game-efficient showing in the comeback win in Denver. But two things statistically have contributed to his rise: continued work on keeping his turnovers down (one INT, one lost fumble in the past three games) and his new-found marksmanship.
Wilson followed his 71.8% accuracy (28 of 39) against the Chiefs with the most pinpoint game of his career, 73.1% (19 of 26) at Denver. Mike White had a better two-game combined completion percentage in 2021, but no Jets QB has had back-to-back 70% games since Josh McCown went three games straight and then two more in a row in 2017.
"For our system, on the foundation of what it was built, is all your footwork," offensive coordinator Nathaniel Hackett said. "Your footwork and understanding of the decision and the timing, that leads to your accuracy. So for him to be able to take the proper footwork and get the ball out before any pass rush can even get to him, accurately and efficiently, is what we're always aiming for.
"So I think for him, as he's developing within the footwork and understanding where his eyes are and his feet, that's where I think your seeing that improvement."
Wilson gave pats on the back to all his coaches for his improved footwork, not just Hackett but also passing game coordinator Todd "TD" Downing and quarterbacks coach Rob Calabrese. "Your feet tell the story every single play," the QB said. "That's something we're always working on. Those guys do a great job."
Who else does a great job? The Eagles, the opponents that Wilson and his receivers will try to hit 70 against at home on Sunday. They are dominant against the run, No. 1 in the NFL in rush yards/game and No. 4 in yards/carry. But as ferocious as the Birds can be, there could be opportunity if Wilson's line gives him the time he needs to keep finding his short and intermediate receivers and then popping a big downfield play when it develops. Philly opponents have 11 TD passes to two INTs and a 98.2 passer rating.
Wilson had an interestingly upbeat take about running into one of the league's two remaining unbeatens.
"They're very challenging. These guys are really good," Wilson said. "A lot of players all the way around and obviously the big guys up front, too. I remember playing them my rookie year. They talk a lot, and as a quarterback, that's exciting because those guys are getting after it.
"I remember Fletcher Cox in our joint practice, just how excited he is to be out there and he always tries to get into your head. But they make the game fun and these guys play hard, and so I think it's going to be a good matchup for us. I'm excited."
Saleh never lost faith in Wilson, even as he fell to backup status behind Aaron Rodgers this offseason and preseason. And now that he's stepped in for the injured Rodgers until who knows exactly when, Hackett has that same excitement for Wilson's progress.
"There's unbelievable signs of him growing, starting with the protection, the operation of the cadence and the motions, even the reads and progressions," the OC said. "He was in a system for two years prior to this, and we're trying to put more on his plate to have him grow and continue to get better, but sometimes those things are the first time he's ever done them in a game. So it's one of those things. Just keep growing, keep learning and keep developing."
See photos of the Jets on the practice field during Thursday of Eagles week.