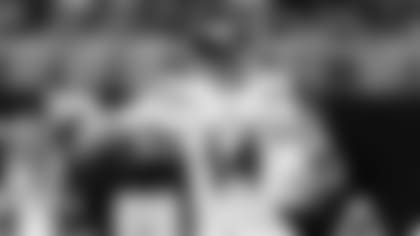 Despite missing four offensive linemen who likely will be starters on opening day and minus star RB Le'Veon Bell for a second summer contest, Sam Darnold came out slingin' again Thursday in Atlanta. And for the second consecutive week, he led the Green & White on an impressive scoring drive to start the game.
"It felt really good just being able to start strong, start fast," Darnold said after the team's 22-10 victory. "For those last couple of drives, we hoped to put together a couple scoring drives together, but I thought our whole team played really well. Those first few drives, we played with great tempo, just some details we have to clean up."
After a play-action dart to Quincy Enunwa for 15 yards to get himself going, Darnold threw a magnificent back-shoulder strike to Robby Anderson for 21 yards. Playing in Matt Ryan's house, Darnold showed early signs of why many believe he is poised to make a sophomore leap.
"I think the sky is the limit," Anderson said of Darnold. "I think what we build and what we do is going to speak for itself. The work he puts in is going to be on display."
On the pass to Enunwa, Darnold displayed that patience and the solid footwork that we have witnessed throughout the summer. He used his eyes to take a quick glance at Ty Montgomery before unleashing a rocket. The throw to Anderson was as good as it gets with the ball placement being where the cornerback had no shot to make a play. On a third down inside the 10, Adam Gase set up his young quarterback with an easy toss as Enunwa made room for Anderson underneath. Montgomery's 1-yard scamper culminated an 8-play, 66-yard possession.
"We have a bunch of guys that can make plays and play all over the field," Darnold said. "Whenever you have that, it makes the defense second guess themselves. I think as long as we continue to attack that way, the key word there is attack, as long we keep doing that and really keep the defense on their toes and make sure they don't exactly understand what's coming at them, I think we'll be alright."
The Jets couldn't convert on their next possession despite taking over at their 42 following a missed field goal, but Darnold was not at fault. Cornerback Desmond Truant made a strong play on an accurate ball that reached Eunwa and Vic Beasley got around rookie right tackle Chuma Edgoa for a sack on third down. On his final possession of the evening, Darnold bought some time out of the pocket and drew a holding penalty.
"The last couple of drives weren't so good," he said in a mid-game interview. "We killed ourselves a couple times. But I think the more times we get out there, the more experience we get in game situations, the more our guys all execute. I'm fully confident in that."
Darnold finished the night 5-of-7 for 46 yards. The Jets offense, which has yet to line up without star Le'Veon Bell, looks like a unit that has an opportunity to be explosive in the regular season. Their 22-year-old signal-caller continued to look the part on a night the Green & White reached the halfway point of the preseason.