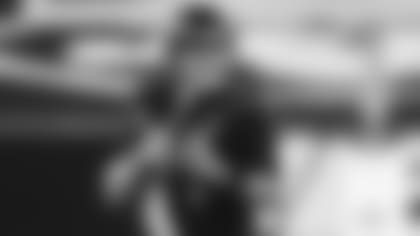 As the Jets' 2020 season continued to unfold, the chattering classes were having a field day. But Sam Darnold didn't need to listen to the chatter. Being his own toughest critic, he was trying to right his ship and get the Green & White flying high again.
"Obviously a lot of us live not having any regrets, but we wish it could've gone differently," Darnold told newyorkjets.com's Eric Allen about the recently concluded season. "The biggest thing is not winning as many games as we thought we would. All of us in the building, we learned from it, we grew from it."
And, the Jets' third-year quarterback said, "there's reasons for not playing the way I wanted to. I'm going to look at the tape this offseason and continue to work on the things I need to work on and get better. I can really look back and say we all learned from it and I grew from it."
Game 4 against Denver was a turning point in Darnold's campaign. The Jets opened 0-3 but got off to a 7-3 TNF lead on the QB's record-book TD scramble. But one drive later, he was slammed hard to the MetLife Stadium turn on a sack by the Broncos LB A.J. Johnson.
"Derailed might be a harsh word, but in some ways it derailed the season for me. It just set me back," Darnold said of the injury. "As a quarterback, you wish to play every single game. I'm going to continue to take really, really good care of my body this offseason and make sure stuff like that, as avoidable as possible, doesn't happen again."
Then after sitting out two games with his sore shoulder, Darnold returned for two games. And in Game 8 at Kansas City, he crunched the shoulder again at the end of a third-down scramble. Another lesson underlined.
"I've got to be smart in situations like that," he said, "understanding that if I've got a chance to get the first down, maybe go for it, but at the same time, at that point in the game it was about me staying healthy. I've got to learn from those mistakes and never let them happen again."
Darnold earlier talked about not playing consistent enough this year and his statistics indicated that. His passing numbers fell from year two, as did his overall drive stats.
But there were some bright spots in that mix. One was his scrambling, which produced the highlight-video 46-yard TD run against the Broncos — the longest run by a quarterback in Jets/Titans history — and lifted his yards/carry average to 5.9, tied for second-best in a season by a QB in franchise history.
"That run was super fun," he said. "I really haven't done that since high school."
Darnold and his offense also showed proficiency on the first series of games and second halves, producing six touchdowns and five field goals on his 18 half-opening drives from Denver forward. And that was in part due to his being able to work more in the second half of the season with his top three wideouts healthy and his O-line more stable.
Even though new head coach Robert Saleh wasn't committing to any personnel decisions this early in his Jets tenure, he offered a favorable scouting report of Darnold, informed by his work preparing the 49ers defense to face the Jets back in Week 2.
"He's got unbelievable arm talent," Saleh said. "He's fearless in the pocket, he's got a natural throwing motion, he's mobile, he's extremely intelligent and he's tough as nails. His reputation in the locker room is unquestioned. There's a reason he was the third pick in the draft and you can see all those qualities on tape and around the building and in the way people speak about him."
There weren't enough wins, but Darnold appreciated the two the Jets got, especially the first one at SoFi Stadium, about an hour from San Clemente HS where he played scholastically.
"It was awesome to be able to go back home," he said. "I didn't have family in the crowd or any friends there. But it was special for me to be able to go back home and win that game. Our first win of the year, too. It was a special moment."
Whatever lies ahead for him and the Jets, Darnold offered his assurances that he's coming back refocused for his fourth season in the pros.
"I absolutely believe my best football's ahead of me," he said. "Really, these last three years motivate me, too. I'm going to work just as hard if not harder than I've ever worked before in this offseason and I'm going to come back stronger. I promise."