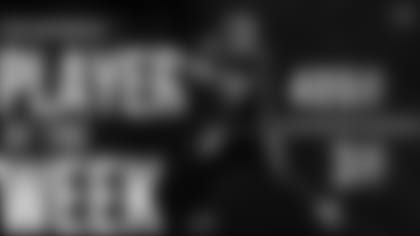 Jets QB Mike White was named AFC Player of the Week after leading the Green & White to a 34-31 win over the Cincinnati Bengals.
Making his first NFL start against Cincinnati, White (6-4, 218) threw for 405 yards, 3 TDs, 2 INTs while completing 37 of his 45 passes (82.2%). He had a 107.9 QB rating. White, a Cowboys fifth-round pick in 2018 out of Western Kentucky, became the second quarterback in NFL history to throw for more than 400 yards in his first NFL start (Cam Newton, 2011). His 405 passing yards was the most by a Jets QB since Vinny Testaverde in 2000. White started the game completing 11 straight passes, the longest streak by any signal-caller in his first career start since 1978.
"We've been blessed to be around some of the great players in this league and Mike is fantastic," said Jets head coach Robert Saleh of White after the victory. "He's poised. He was throwing it all throughout camp and throughout OTA's that he deserves to be one of those guys. Obviously, he showed it today."
White helped the Green & White become the first of 60 teams this season to come back from a double-digit deficit with five minutes remaining in regulation as the Jets beat the Bengals 34-31 at MetLife Stadium. He threw fourth-quarter TD passes to Ty Johnson and Tyler Kroft and the crowd began chanting his name in the final moments.
"At first, I had to kind of listen again," White said. "I was like, 'Are they chanting my name?' And then I tried to stay locked into the game because there were four minutes left and we were determining whether we were going to be in two-minute offense or four-minute offense, if we were going to need to go score or if we had the lead. So, my only hope was they weren't going to do it while we were in the huddle and at the line of scrimmage so we could hear clearly."
When asked how to not make the moment too big for him, White said he kept his schedule the same.
"I didn't stay crazy late hours to try to overcompensate for anything," he said. "I did the exact same schedule I would on Monday, Tuesday, Wednesday, Thursday, Friday, Saturday as I would if Zach (Wilson) were playing. The only difference I told myself would be that I would just get more reps at practice. So, I felt normal, nothing felt out of the ordinary. I didn't stay up until midnight watching film and put too much into my brain and get too stressed out over it. So, I think that that ended up paying off for me."
Saleh was impressed with the signal-caller's poise, leading the Jets to their first first-quarter points this season, orchestrating a 10-play, 79-yard drive that resulted in a Carter 8-yard TD run. After sifting through the 300 text messages on his phone (including a play-by-play from Zach Wilson) and going out to dinner following the game, White is now preparing for his first road NFL start against the Colts in Indianapolis on a short week.
"We're going to go out there with the same exact mindset," he said. "I know it sounds corny, but it's the truth. Coming in today, we had the same mindset as we did last week coming in after the Patriots game. We have to come in, close the book on this game and especially with a short week, there's a lot of work to be done in a little amount of time. It helps after a win because guys are in a great mood and the energy in the building is better, but there's still work to be done and that was the mindset coming in today."