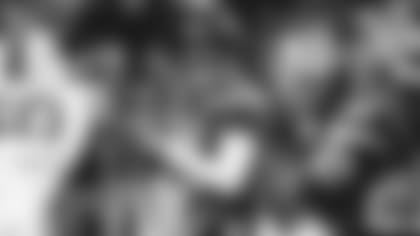 Veteran Joe Flacco will start for the Jets (2-7) on Sunday when they meet the Dolphins (3-7) at MetLife Stadium. Flacco, acquired from the Eagles on Oct. 25 in exchange for a conditional pick on Oct. 25, is set to become the third signal-caller to start for the Green & White this season.
"One of the reasons we went out and got Joe was for the experience part of it," Jets head coach Robert Saleh said on Wednesday. "Not only for the playing ability or for the room, but also for situations just like this. Miami has a dynamic coverage system as it pertains to [Cover] 0 and all the different coverages they run and Joe has kind of been there, done that. Just kind of a steadying experience that we thought would put us in the best position to win."
Flacco appeared in five games for the Jets last season, throwing for 864 yards with 6 TDs and 3 INTs. Last week in relief of Mike White, Flacco completed all 3 of his passes for 47 yards including a 15-yard scoring pass to Elijah Moore. Flacco (36), an Audubon, NJ, native, ranks in the top seven among all active QBs in passing yards (40,978) and touchdowns (225).
Saleh said: "He's a very steadying force, player, just in terms of his experience and knowledge in being able to get the ball to his playmakers."
Zach Wilson, the No. 2 overall selection in April's draft who started the team's first six games, remains out with a PCL sprain he sustained against the Patriots. Wilson, who was limited at practice last week and got in an extensive workout last Sunday before the Jets' loss to the Bills, is not yet 100%.
"Zach is still dealing with his knee," Saleh said. "He's getting a lot better and is still going to practice. He's just limited."
White has appeared in four contests and started the past three, hitting on 66.7% of his passes with 5 TDs and 8 INTs.
"What Mike has done in three weeks as a starter has proven to this entire organization and in my opinion, to the entire New York fan base, that he is a capable quarterback who can play in this league and can do a lot of good things," Saleh said. "We're more excited about Mike as a quarterback in our future and working with Mike for as many years as possible because of what he has been able to do in his three starts."
The Jets have played four quarterbacks during their first nine games -- Josh Johnson threw for 317 yards and 3 TDs against the Colts on Nov. 4. White will return to his backup role this weekend as Flacco readies for a Dolphins defense that stymied Lamar Jackson and the Ravens in Week 10, sacking him 4 times and holding Baltimore to just 2-of-14 conversions on third down.
"It goes back to Joe's experience and recognizing coverages pre-snap and knowing exactly where the ball needs to get as quickly as possible to 1.) avoid hits. but 2.) get the ball where it needs to go in space," Saleh said.