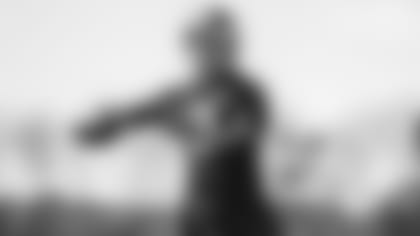 Jets quarterback Aaron Rodgers on Thursday conducted his final press conference before Monday night's season-opener against the visiting and three-time defending AFC East winners, the Buffalo Bills.
Perhaps his shortest and most direct response came to a query about any messages he might be offering his teammates.
"I've got a lot of messages for them," he said. 
Care to share? "No, they're esoteric in nature," he said.
In other words, not for consumption by reporters or for the public.
As he is about to embark on his 19th season in the NFL, and obviously his first in any place other than Green Bay, WI, Rodgers has been the focal point during a summer of anticipation and excitement. He admitted that his personal level of excitement was "strong to quite strong."
"It's going to be good, I'm going to be excited out there with the crowd," he said. "I hope to get out there early, get the jitters out in pregame and go out and try to execute." He added: "I just want them [the fans] to show up early and be as loud as possible when we're on defense. There's a lot of excitement, for good reason."
From the moment the Jets introduced the four-time NFL MVP as their starting quarterback a few days before the NFL Draft in late April, there has been a laser focus on the Green & White, and on Rodgers especially. It bubbled up during OTAs when he was seen around New York, at Knicks and Rangers games with several teammates, amped up when he was spied at a Taylor Swift concert at MetLife Stadium and has continued right through training camp in the glare of the HBO documentary series "Hard Knocks" and via intimate video productions put together in the "One Jets Drive" series.
All along, fans were provided with an intimate and perhaps surprising incites into a smart, thoughtful and secure quarterback who is a few months away from turning 40 years old.
 "I think they [fans] knew some about me, maybe not rooted in a lot of truth," Rodgers said. "That part was good to have out there, there were some misgivings about the whole ["Hard Knocks'] experience. They had a lot of access, maybe not every team meeting, but it was good for the guys, except seeing C.J.'s [Uzomah] hair, but overall a good experience."
Throughout OTAs, training camp and now in the runup to the start of the regular season days away, Rodgers has been credited with sharing his views and experience with players on offense and defense -- and sort of coach on the field.
"I've said it before, it's not different than leaning on a quarterbacks' coach or an o-line or a db coach," head coach Robert Saleh said on Thursday. "I just lean on them for their thoughts and I'm going to go to Aaron and get some thoughts, the same from [OL] Duane [Brown] and [LB] C.J. [Mosley] and all the vets on the team. Aaron added to it, what we didn't have a year ago. He's been a tremendous asset, a tremendous ear. He's provided thoughtful insights, he's challenging, and I want that. Having him here has been awesome."
And as Saleh has acknowledged, having Rodgers here has been awesome for each of the 52 other players on the regular-season roster, but particularly for QB Zach Wilson, who has had to take a back seat with No. 8 now running the offense. For his part, Rodgers took time on Thursday to support and praise Wilson.
"There's a lot of guys really who made me feel comfortable and at home," Rodgers said. "But the relationship with Zach has been the most important. We already had a friendship coming in here, but him knowing I'm the guy ... he dealt with so much the last few years and for him to embrace me has been fantastic. I love him and want to see him grow and get better, to watch me and be in my hip pocket. That was first and foremost. I also love Sauce, MCII [Michael Carter II], Garrett [Wilson], Mekhi [Becton] and Connor [McGovern]. I've got my braintrust in Duane [Brown], Al [Woods], JFM [John Franklin-Myers], Quinton [Jefferson]. We got a lot of stuff done and have new topics every day."
Asked how he felt about the notion of simply managing the game, Rodgers would have none of it.
"I've never liked 'manage and game' in the same sentence," he said. "I feel like as quarterback you're there to make plays. You have to be opportunistic and when you've got a great defense, like we do, I'll play like I've always played -- be smart, play the percentage game and find the best matchups. 
"We're 0-0. We don't know what's going to happen. I have a lot of ideas about how good we're going to be, but nothing matters until you go out there and play. It's going to be a work in progress, we've got tests early.
"Every year you set personal goals and have an idea about how it plays out. It doesn't always work that way. It just depends on the flow of the game and what happens in the red zone. If you're doing well on third down and in the red zone, everything takes care of itself. I'm not looking at it like I have to bounce back, I just have to play the way I know how to play."
See the Jets on the field for the first time in the Legacy helmets during Thursday's practice of Bills week.