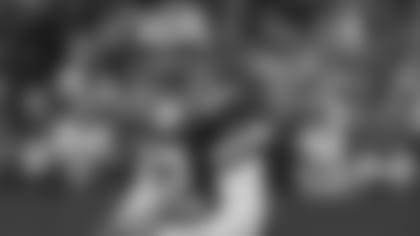 The Jets and the Green Bay Packers have struck their deal in the trade of Aaron Rodgers. Jets Nation is wildly happy, but some fans may just have a question about the superstar quarterback: Which A-Rod are the Jets acquiring?
Will it be the 10-time Pro Bowler, four-time All-Pro first-teamer, four-time NFL MVP and starter of 21 playoff games and winner of 11, including one Super Bowl? Or will it be the Rodgers of 2022?
"Different teams, different players, different mindset, different scheme," Rodgers told Jim Polzin of the Wisconsin State Journal before Green Bay's regular-season finale vs. Detroit, comparing the Packers' late-season surge before that game to 2016, when he and the Pack rode a six-game win streak into the postseason. "I just need to be efficient. If I'm efficient and taking care of the ball as best I can, making the right checks, I can still impact the game in a positive way.
"I take a lot of pride in that and the preparation in that and the performance of that. But yeah, of course I'd love to be throwing more touchdowns and scoring more points."
After three consecutive 13-win playoff seasons, the Pack's '22 season didn't end in typical Rodgers fashion. The 20-17 loss to the Lions knocked the Packers out of the playoff picture at 8-9, his 12 interceptions were his most in 14 seasons, and his 91.1 passer rating was the lowest of his tenure as the GB starter that began in 2008.
Yet Rodgers could have also mentioned the avulsion fracture of his right thumb that he played with since early October. Or that he lost Davante Adams, his prodigious primary receiver for nine seasons, to the Raiders in free agency last year. Or that Nathaniel Hackett, his coordinator for three highly productive seasons from 2019-21, left last year to become Denver's head coach (before being fired and since signing on as Robert Saleh's new Jets OC).
He didn't make those excuses, and we're not trying to sugarcoat his 2022. But it's worth considering an apples-to-oranges comparison of Rodgers' statistics from his best seasons and from last season and showing where they might have fallen in the Jets' single-season record book:
Table inside Article

| Category | Rodgers Best | Rodgers '22 (Jets Rank) | Jets Leader |
| --- | --- | --- | --- |
| Attempts | 610 (2016) | 542 (4th) | Testaverde (590 in 2000) |
| Comps | 401 (2016) | 350 (1st) | Favre (343 in 2008) |
| Accuracy | 70.7 (2020) | 64.6% (6th) | Pennington (68.9% in 2002) |
| Yards | 4,643 (2011) | 3,695 (5th) | Namath (4,007 in 1967) |
| TD Passes | 48 (2020) | 26 (T-3rd) | Fitzpatrick (31 in 2015) |
| Rating | 122.5 (2011) | 91.1 (5th) | Pennington (104.2 in 2002) |
| Plays/Drive | 6.35 (2020) | 5.98 (2nd) | O'Brien (6.20 in 1991) |
| Yards/Drive | 41.0 (2020) | 33.0 (3rd) | Testaverde (33.3 in 1998) |
| Off Points/Drive | 3.23 (2020) | 1.97 (6th) | Testaverde (2.38 in 1998) |
True, Rodgers played all 17 games last year while all the Jets leaders in those bulk categories weren't able to play more than 16 games. On the other hand, all of Rodgers' 16-game bests on the above list are better than the Green & White's career leaders, some by wide margins. And while he could be on the "downslide" of his career, he also could pick up where he left off in 2021.
We prefer the latter view. So does Ryan Clark, the former NFL safety and now ESPN analyst, who said of Rodgers, "We talk about him because he's a year removed from being a back-to-back MVP. ... We talk about him because he's really dang good."