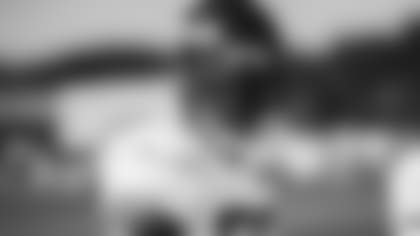 Two days before the preseason comes to a close, the Jets received a mixed bag of injury news.
The good: LG Kelechi Osemele (pectoral strain), RG Brian Winters (shoulder), WR Jeff Smith and CBs Trumaine Johnson and Kyron Brown, who were both nursing hamstring injuries, returned to practice.
"Twenty-two started practice, looked good," head coach Adam Gase said of Johnson, who did not participate in team periods. "Our plan was to kind of let him go a little bit and bring him back in to finish his rehab inside. That's what we did. It worked out the right way our trainers wanted."
Gase later added, "Jeff Smith and Kyron Brown, both those guys went through the whole practice. Those guys finished and it looks like they're getting better."
The bad: WR Robby Anderson is considered day-to-day with a calf injury.
"I don't know if it's a concern. Any time you have a soft-tissue issue, it's an unknown," Gase said. "That's why it's day-to-day. He'll keep working on that and hopefully we get him back for practices and get him a full-week go, and he feels good and we're ready to roll."
Who Will, Won't Play vs. Eagles
The only person Gase ruled out of Thursday's preseason finale at MetLife Stadium was starting quarterback Sam Darnold.
"We're kind of being selective of who's going to play and who's not," said Gase, who facetiously told reporters the Jets QBs will combine for at least 55 pass attempts against the Eagles. "We're kind of working through where we're at with injuries, so it's hard to say all the starters are ruled out."
Gase said there's a possibility the starters, particularly on the defensive line, could play a series or two to lessen the workload of other players. Regardless of who starts, there will be a number of players, not only on the Jets but across the league, trying to earn a roster spot.
"For us, there are a lot of guys that are playing for their job here, but they're also putting out film for the rest of the league," Gase said. "There are a lot of guys that are going to get released here in the next five days or so and other teams might have interest in somebody, so it's just about putting out the right film."
Kicker Update
One player fighting for his job K Taylor Bertolet. Bertolet, who signed with the Jets after Chandler Catanzaro retired earlier this preseason, missed a pair of extra points against the Falcons but rebounded nicely with 48- and 56-yard field goals against the Saints last week.
"I guess it's encouraging," said Bertolet of being the only kicker on the roster. "But I still believe I'm competing against every other kicker in the NFL.The reality is they (the Jets) are looking at every guy. They could obviously make front-office decisions where that changes quickly. So, I have to do my job every single time I go out there because you never know who they're watching."
Jetcetera
S Brandon Bryant is in concussion protocol and S Rontez Miles is day-to-day with a hip injury. … WR Josh Bellamy took first-team reps in place of Anderson and WR Quincy Adeboyejo took second-team reps in his first practice with the team. CB Alex Brown took first-team reps on the outside opposite Darryl Roberts. … S Marcus Maye tipped, bobbled and picked off a Darnold deep pass intended for Bellamy. Maye did a nice job locating the ball after he had his back to it. Kyron Brown jumped a Trevor Siemian pass intended for Tim White. … Siemian hit Daniel Brown on a beautiful touch pass over the middle with multiple defenders nearby. … Le'Veon Bell had another good day of practice and was explosive running the rock.