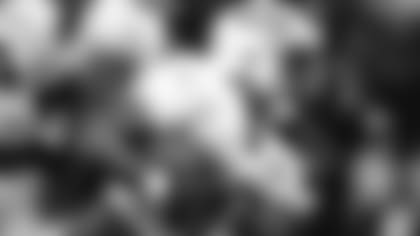 Asked about rookie running back/returner Trenton Cannon this summer, Jets head coach Todd Bowles several times has observed, "He's fast."
That is indeed true. Then on Friday night, when Cannon put two of his three punt return tries on the turf, it was tempting to say the young man had hit a speed bump.
But that's all it is, say Bowles and Cannon. It's not the end of the road.
"He's done some good things," Bowles said from this week's joint practices with the Redskins in Richmond, VA. "It's early. He's got some things to work on as well, but he's fast. We understand what he has talent at and we understand what he needs to work out as well."
"I just took my eye off the ball both of the times," Cannon said. "It was my first time in a game actually returning punts. I just have to clean it up by keeping my eye on the ball."
That's something we need to remember about the 5'11", 185-pounder from Virginia State, just a half-hour down I-95 from Richmond: As prolific as he was at the Division II school, he did it all as a rusher, receiver and kickoff returner.
"I never did it up until now," Cannon said of handling punts. "They wanted to use me at punt returner in college, but I wasn't used to it, we already had a punt returner, we didn't really need one, and they weren't pushing me to do it at Virginia State."
But the Jets have been looking for some dynamic PR since the early Jeremy Kerley days of 2011-12. Special teams coordinator Brant Boyer worked Cannon out after his pro day, specifically with an eye toward fielding punts, and the Jets were impressed enough to take a shot at him in Round 6.
"They saw the potential in me and they gave me a chance," Cannon said. "I've been getting ready for it. Practice makes perfect."
And in practice, we've already seen that 4.4 speed. He turned on the jets on tosses, sweeps and returns at the Green & White practice at Rutgers. And in the last practice before the Falcons game, he beat his DB coverage and gathered in a 55-yard over-the-shoulder pass for a score from fellow rookie Sam Darnold.
Cannon recalled the moment the phone rang in April and he found out he had become a Jet.
"It was an exciting moment, not just for me but for my family," he said. "All the hard work paid off. I was emotional especially when I got that call for the simple fact that I made it, I made it."
But can Trenton Cannon keep it? All signs point to yes. However, he was in uniform but getting iced up at today's practice, so some sure-handed punt catches and an explosive runback or two Thursday night against the 'Skins at FedEx Field, in front of his family, Virginia State fans, and Jets followers in the stands and in their homes, may or may not be in the cards. Still, any remaining questions will be answered soon enough.