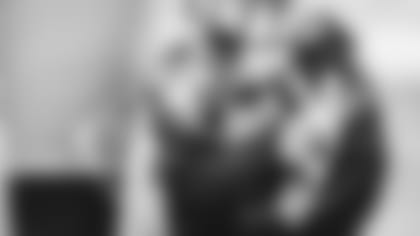 The Jets have placed C Connor McGovern, OL Wes Schweitzer and DT Al Woods on injured reserve, and signed OL Dennis Kelly and DT Tanzel Smart to the active roster. The team also signed OL Rodger Saffold and DL Jalyn Holmes to the practice squad.
McGovern (6-4, 306) took 18 snaps in Sunday's win over the Giants before he dislocated his kneecap. McGovern, who re-signed with the Jets in April, was the only player last season to take 100% of the team's snaps on offense (1,114). Originally a fifth-round pick of the Broncos in 2017 out of Missouri, he played three seasons in Denver before joining the Green & White in 2020. McGovern had played 3,055 offensive snaps in his three seasons as a Jet (2022-22), the most on the team in that span.
Schweitzer (6-4, 300) took 28 snaps in Week 8 before he exited with a calf injury. He started the game at RG and shifted to center once McGovern hurt his knee. Schweitzer, who signed with the Green & White in the offseason, started 6 games for the Commanders last season and has started 60 of the 80 games he's played in over his six NFL seasons. He's taken snaps at every position since he was drafted by the Falcons in the sixth round in 2017, but the San Jose product has predominantly played left and right guard.
Woods (6-3, 330) signed with the Jets in May. In six games this season, he had 6 tackles, 2 tackles for loss, 2 QB hits and 1 sack. A fourth-round pick by the Saints in 2010, the LSU product played on three teams his rookie season – Saints, Steelers and Buccaneers – before making his NFL debut for Tampa Bay. Woods has also played for the Seahawks (2011, 2019, 2021-22), Titans (2014-16), Colts (2017-18) and Jaguars (2020). He also had a second stint with the Steelers (2011-13). He's started 78 of the 161 games he's played in and has 299 tackles, 30 TFL, 10 sacks, and 22 QB hits in his career.
Kelly (6-8, 321), who signed with the Green & White practice squad Oct. 11, has played in 130 games in his NFL career (54 starts). He was originally drafted by the Eagles in the fifth round in 2012 out of Purdue and spent four seasons with Philadelphia. He then joined the Titans from 2016-20, Packers in 2021 and Colts in 2022. Kelly was a part of Eagles training camp and was a final cut. He's played both tackle and guard positions in his career with the most snaps at RT (2,543) followed by LT (655), RG (428) and LG (126).
Smart (6-1, 295) first signed with the Green & White in 2020 and spent the last three seasons on and off the team's practice squad and appeared in 6 games. Smart was originally drafted by the Rams in the sixth round in 2017 out of Tulane and has 29 career tackles in 37 games (4 starts). He spent the summer with the Jets and was a final cut before he rejoined the practice squad.
Saffold (6-5, 325) started 16 games for the Bills last season at guard. He was originally drafted by the St. Louis Rams in 2010. The former second-round pick out of Indiana played nine seasons with the Rams before three with the Titans and one in Buffalo. Saffold, a two-time Pro Bowler (2021, 2022), has started 173 of his 176 career games. He's played predominantly at left guard but has experience at both right guard and left tackle.
Holmes (6-5, 283) first signed with the Jets in August before he was cut and joined the practice squad. He was released from the P-squad Oct. 11. Originally drafted by the Vikings in the fourth round out of Ohio State in 2018, Holmes appeared in 25 games (9 starts) in three seasons while tallying 43 tackles, 4 tackles for loss, 1 sack and 2 pass defenses. He then played with the Saints in 2021 before a stint with the Giants in 2022.