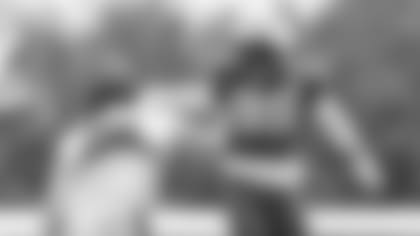 Jets fans have traveled in impressive numbers to the team's open training camp practices in Florham Park, NJ, as well as to their two preseason games, in Canton, OH, against the Browns and in Charlotte, NC, vs. the Panthers.
On Saturday night, Jets Nation gets its first opportunity to see the much discussed and dissected Green & White in their first home-stadium game setting when the Jets take on the Tampa Bay Buccaneers at MetLife Stadium (kickoff shortly after 7:30 p.m. ET).
And if any fans have any concerns about not seeing Aaron Rodgers in game action at all this summer, they probably don't have to go any further to get a reality bite than the MetLife visitors sideline, where Todd Bowles will be leading his Buccaneers into battle. Bowles, who of course was the Jets head coach from 2015-19 before joining Bruce Arians' Tampa staff in '20 just in time to catch the Tom Brady train to Super Bowl LV victory, was asked this week about the similarity of those Brady Bucs to this year's Jets.
"I don't think it's similar because we don't have Tom and they have Aaron. They've got to deal with that," Bowles said. "We're just trying to get better. We're not making it a comparison thing. We're trying to get some work in. We don't even look at it that way."
In a sense, that's the way the Jets and HC Robert Saleh are looking at their situation. Rodgers, Saleh said Thursday, will not play again on Saturday, with Zach Wilson making his third straight summer preseason QB start, backed again by Tim Boyle. Saleh even said he and his staff haven't decided yet if Rodgers will in fact suit up and play a few series in the preseason finale at the Giants.
At least if Rodgers' first game appearance in his different shade of green is the Sept. 11 season opener against the Bills, that will match up with the Brady/Bucs 2020 blueprint, since neither Brady nor any other player in the league played any preseason games that year due to COVID.
But Saleh's game vision for his Jets, who held one joint practice with the Bucs at the Atlantic Health Training Center on Wednesday, will be similar to the Jets' personnel deployment at the Panthers.
"It'll be very similar to last game," he said. "A couple of more defensive guys will play, but it'll be the same plan for the offense."
The defense at Carolina went almost entirely with the second and third units, and the results were acceptable as the Jets registered five sacks, allowed 165 yards and posted their first road preseason shutout since 1990 at Kansas City.
The offense also did OK, as a handful of ones plus twos and threes produced 141 rushing yards and drives to three short TD passes, all to the backup tight ends.
Zach Wilson will be in the hotseat again, and he's been up to the challenge the first two games, producing one touchdown, four field goals and no turnovers in his nine drives. His passer ratings in those games were 104.2 and 102.7, and with one more 100 rating, he'll be the first Jets QB since 2000 with 100-plus ratings in three preseason starts. That factoid isn't meant to impress or snow anyone, but it's a small indication that Wilson' has been improving under Rodgers' tutelage, and as Saleh observed, "Zach's growth has been phenomenal. He's playing without fear."
Another fearless warrior in the spotlight will again be Mekhi Becton, who played backup LT and even some RT during the week. Saleh continues his upbeat analysis of the former first-round pick who hasn't played in virtually two full seasons: "He's going for it. It's the most confident I've felt in a while with him."
The Jets offensive line will be under the gun until they're not, with the frontliners scuffling against the Buccaneers' veteran pass rush in their joint practice. Meanwhile, the defense will work some of its starters from last year's top-five NFL unit into the mix and will get a good test from QBs Baker Mayfield (8-for-9 for 63 yards and a TD vs. the Steelers), Kyle Trask and John Wolford throwing for Mike Evans, Chris Godwin & Co., for as long as Bowles keeps his starters on the turf he called his home field for four seasons.
Game Notes
The Jets lead the regular-season series with Tampa Bay, 7-1, while trailing the summer series, 4-3. ... Saturday will be the eighth preseason game between the teams, with none of the previous seven having been a Jets home game. Six were Bucs home games and in 2003 the teams journeyed to Tokyo for the American Bowl game won by the Bucs, 30-14.
The Jets' last summer win over Tampa came in 1997, 15-9 in OT, and it was a big game in a few ways. WR Wayne Chrebet had 10 receptions for 140 yards and a 21-yard TD reception from Glenn Foley in the game, with the 10 catches the most by any Jets receiver in a preseason game since at least 1968. The win in the preseason finale also raised the Jets' record to 4-0 in HC Bill Parcells' first season at the helm.