There is a phrase in football that gains wide currency from this time of year through training camp: "The More You Can Do." Many football players who want to play in the pros will take these five words to heart as they try to get a sturdy foothold with an NFL team.
You might not think the man who is entering his ninth season as the Jets' starting left tackle ever needed the wisdom of TMYCD, yet he still embraces the concept, so much so that he's temporarily leaving the gridiron and his comfort zone to pursue another endeavor.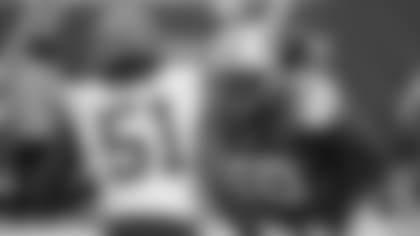 Meet D'Brickashaw Ferguson, our new blogger on newyorkjets.com.
"I think to be here with the Jets and to work on this blog is a great opportunity because it's giving me a chance to show a different talent," Ferguson told me as we chatted in the Jets business offices recently. "Oftentimes you've seen me on the field and we've applauded and booed some of the things I've done. But this is something that gives me an opportunity to show a different talent and I'm just happy that I have the ability to do it here, a place that I call home, and that I can share it with all of my fans."
Ferguson has always been interested in reading writers' thoughts and listening to their arguments, from growing up on Long Island through his college days as a religious studies major at the University of Virginia to today.
And it seems that besides being a Pro Bowl-caliber tackle year in and year out, D'Brickashaw Ferguson also has an inner writer eager to burst out. He got started with his children's book, "Brick's Way Go Green," a few years ago, but he said, "I definitely had help with that," and he's looking to take more steps now.
I asked him where he sees the writing muse taking him and he spoke about writing for a newspaper, which of course now means writing for a paper's Website (but not necessarily in the sports department), as well as working on documentaries and books.
"I know I'm young or early in the process, but yet I think this gives me an opportunity to be hopeful and see where it can take me," he said. "I feel this is one of those skills, unlike athletic ability, that grows with time, it can get better the more you put time into it. We know as athletes we'd love to play this game forever, but it's important we also consider other things that kind of define who we are."
We talked briefly about that ninth pro season that he's already embarking on and he expressed optimism for himself and the 2014 Jets, but also, in keeping with his thoughtful nature, the limited time that he and his teammates get to participate at the highest levels of their sport.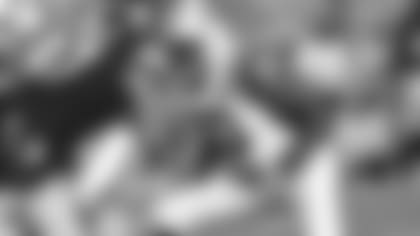 "It's a funny time because you don't know what the team's going to look like in the upcoming year. The draft is coming, we know we have guys that are up," he said with a reference to the free agency signing period that begins in a week.
"A former player once told me that every year your team's going to change, so it's important to really take advantage of this time with your current teammates because you never know what the future holds. So even though this year there's excitement, there's also a sense of sadness because you know some of the people you played with may find themselves either with another home or with no home at all."
That said, he gave no indication he's ready to define himself as a retired player.
"It's always important to take some time off from the game, allow your body and mind to kind of take a breath," he said. "But now I've started to work out again slowly, getting back into the grind of things, and I think with each day you do a little more, you do a little more, till you're really training hard again."
We're happy to assist D'Brickashaw in getting his writing career rolling and look forward to receiving a mention down the road when he's accepting his first Pulitzer and/or Oscar.