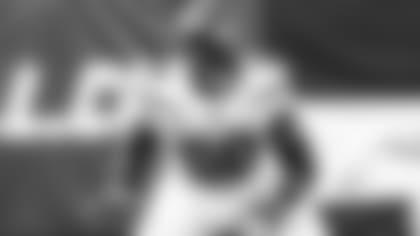 The Jets offensive line might be adding reinforcements as LT Kelvin Beachum was a limited participant in Wednesday's practice and is feeling good after spraining his ankle against the Cowboys.
"I've been biting at the bit for the last two weeks, honestly," Beachum said. "It's one of those things where you do everything the trainers ask, the coaches, trying to put my best foot forward. The functionality of how it's looking out there, swelling, you kind of let that stuff work itself out."
The eighth-year pro was limited in last week's practices as well and was unable to suit up against the Dolphins in South Florida on Sunday.
"Pushing it too fast," Beachum said of his biggest challenge in regard to the injury. "I just want to get back, be here for my teammates, the offensive line. When you're a captain, you just want to be back on the field. Just being smart and try not to push it too fast.
"It's extremely difficult because you want to be there to help. I know I can contribute, so for me, I just want to get back out there with my teammates."
In the 6'3", 308-pounder's absence, the Jets started two different offensive line groups because C Ryan Kalil (elbow/knee) also missed last game. Through eight games, the Green & White have started four different offensive line units and Sunday's matchup against the Giants could result in the fifth different alignment if Beachum suits up and Kalil does not.
Through Weeks 7-9 with Beachum sidelined, the Jets have allowed 12 sacks and averaged 70 yards on the ground. Looking ahead to this weekend, the 30-year-old is looking forward to helping stabilize the O-line.
"At the end of the day, it takes 11 people on offense to produce a positive play," he said. "For me, I just want to be a part of producing positive plays.
"We're worried about this week. We can't worry about past things. We have an opportunity here this week and we're going to focus on this week and take it from there."
Sunday's matchup will be different for Beachum and the rest of the offensive line (and the entire team) because it'll be the first time lining up in a game against DL Leonard Williams, the former Jet who was traded to the Giants last week.
"It'll be interesting," Beachum said. "I have a lot of respect for him, I've seen him the last couple years that I've been here. I know what type of player he is. He plays his tail off, he's a great competitor, so I'm excited to go up against him."
See the Best Images from Wednesday's Practice During Giants Week