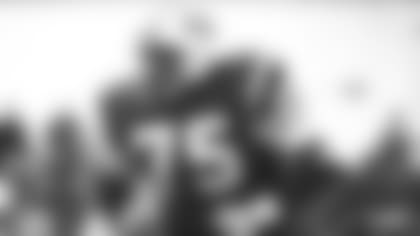 Winston Hill, the most decorated New York Jet, has been named a finalist for the Pro Football Hall of Fame's 2020 Centennial Class.
Hill, who earned his first AFL All-Star Game berth in his second season, 1964, and then was chosen for three straight AFL All-Star Games from 1967-69, was also selected to Pro Bowls in the Jets' first four seasons as members of the NFL from 1970-73. He holds the franchise mark for offensive linemen with 195 consecutive games played and 174 consecutive starts. The 6-4, 270-pound Hill, a tennis champion at Weldon HS in Texas, was a versatile athlete who excelled at both left and right tackle and could play any position on the line.
"There wasn't anybody he couldn't handle," former Jets C John Schmitt said. "He could play any position on the line and play it well. He was the greatest pass-blocker you could find. Having the quick feet from tennis helped him a lot. He was able to move so unbelievably well, but he was very strong."
Hill, a member of the Jets' first Ring of Honor Class along with Joe Namath, Don Maynard, Joe Klecko, Curtis Martin and Coach Weeb Ewbank, protected Namath's blindside in Super Bowl III. In the historic Jets' 16-7 triumph over the Baltimore Colts, Hill helped the Green & White, an 18-point underdog, rush for 142 yards. Of Hill's franchise best eight all-star berths, the first five came at left tackle and the last three at right tackle.
"As a football player, his record of winning games, winning teammates over, the number of years he played, the number of times he made all-everything — Winston Hill deserves to be in the Hall of Fame," Namath said. "What made Winston Hill one of the best offensive linemen to ever play was his ability to execute and protect the quarterback and block for the running game. If you look at one game, the Super Bowl, you see Matt Snell running that ball so many times behind Winston. Emerson Boozer was leading, too, and Dave Herman and other guys, too, but without Winston Hill that day – we don't win the championship."
The Centennial Class will add 20 members in 2020. The group will include 10 Seniors (a player who has been retired for more than 25 seasons), 5 Modern-Era players and three contributors and 2 coaches. One of 20 Senior finalists, Hill and 19 others will be debated in a January meeting and voted on by a 25-person Blue Ribbon Panel with will include Hall Selectors, Pro Football Hall of Famers, media members, football historians and industry experts. The 10 Seniors will then participate in a Centennial Celebration in Canton, Ohio, on Sept. 16-19, 2020 when they are enshrined in the Hall of Fame.
"Winston should be in the Hall of Fame," said Frank Ramos, the Jets' longtime public relations director. "Bill Parcells wasn't around him all that much, but Bill also said the guy should be in the Hall. He was a great pass protector at left tackle for Namath. Then when the Jets picked up Bob Svihus in 1971, Svihus could only play left tackle so they asked Winston if he could move to right tackle."