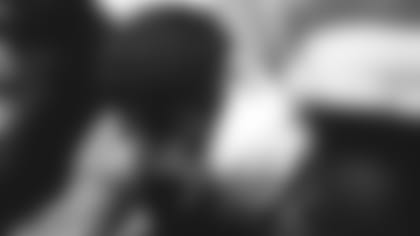 Entering his first season with Jets, left guard Laken Tomlinson has yet to find a steady partner on the left side of the offensive line. But with Jets signing of five-time Pro Bowl LT Duane Brown the pair instantly become among the most experienced tandems around.
Tomlinson, 30, is entering his eighth season in the NFL and played the last five with the San Francisco 49ers before signing in March. He earned his first Pro Bowl selection in 2021 after he lined up in 5,667 of the Niners' last 5,700 offensive plays.
Tomlinson's consistency is impressive, but the addition of Brown brings to the Jets a guy with a comparable résumé. Brown, 37, is entering his 16th season, fresh off his second consecutive season without missing a start. Brown (6-4, 315) last played with Seattle from 2017-21 and over the last 10 years he has taken 8,722 snaps, more than 95% of the snaps he was available for.
"Experience and a lot of grit and a lot of toughness," Tomlinson said about Brown. "I'm super excited about him man. I can't wait to get him here."
Tomlinson has witnessed Brown's endurance first-hand, twice a year for the last five seasons in NFC West clashes between Seattle and San Francisco.
"We were always playing against him twice a year over there when I was with 49ers," he said. "Him being there every week is crazy man. He has some durability going."
In addition, the duo has already had a chance to become acquainted. They both were selected to last season's Pro Bowl game in Las Vegas.
"We obviously played against each other when he was over there and Seattle and I met him at the Pro Bowl," Tomlinson said. "I got to know him on a personal level, and he is a really awesome guy. … Just talking to him, in just the short time I have known him, I have learned a lot."
The signing of Brown comes on the heels of losing RT Mekhi Becton to a season-ending knee injury last week and the decision to flip T George Fant to right tackle. Despite the changes, Tomlinson believes the offensive line is getting better each day.
"The team is responding really well," Tomlinson said. "Obviously with Mekhi [Becton's knee injury] man, it is very tough because of all the work that he has put in. … Unfortunately, it is part of the game and it's what we live with.
"You trust the front office to make the right moves and then I believe they have," Tomlinson added. "Pulling together every day and just getting guys out here working hard every day, because at the end of the day there's going to be five guys out there, we got to give it our best and we got to be one unit."