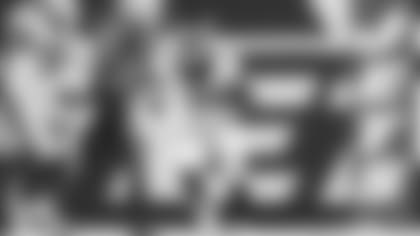 Safety Jordan Whitehead is forewarned and forearmed for his and the Jets defense nears its road showdown with Josh Allen and the Bills offense on Sunday.
"Josh is a great quarterback. He throws a lot of touchdowns, a lot of passing yards," Whitehead analyzed after Thursday's practice. "His superpower is throwing the deep ball, the 7-route, extending plays and making crazy plays like [Patrick] Mahomes. That's his superpower."
But Whitehead has come up with a power of his own, one the Jets secondary has been seeking and that he's shifted into fourth gear to continue to demonstrate it. He's become an interception safety.
Whitehead of course snared three picks of Allen that were an important building block to the Jets' 22-16 opening-night win over the Bills. It was the first three-INT game of Whitehead's career — heck, it was the first three-pick season of his career, all coming in Game 1 — and the Jets' first trifecta by an individual player since CB Ty Law had that many thefts on New Year's Day 2006 vs. the Bills.
"I did nothing special, just reading my keys," Whitehead said about the opener. "He threw some deep balls that were kind of overthrows, so that was just me staying deep."
While many thought that might have been a passing fancy, since the player known in the locker room as J-White had gone the next seven games with no interceptions, Whitehead produced INT No. 4 on Sunday night at Las Vegas. He's tied for third-most picks in the NFL and is second among safeties behind only Baltimore's Geno Stone at six.
The number 4 comes up again in relation to Allen, who threw his first pick to Whitehead in last year's 20-17 home win over Buffalo.
"It's a division game, so you know we're locked in," Whitehead told special guest interviewer D.J. Reed. "In two games the past two years, he threw me four. That's me being really ready and itching for another one off of him, so we'll see what happens."
All Jets are well aware that while, as Reed said in his own interview, "Josh is one of the few quarterbacks that can make every throw on the field, so he feels confident about his arm," Allen continues to produce not only TD passes (19 this season) but also giveaways (11 interceptions, three lost fumbles).
But the Green & White have to be prepared for some things maybe they haven't seen from Allen and the offense on Sunday, which will be the first game that Joe Brady, Buffalo's QBs coach the first half of the season, will call as HC Sean McDermott and the Bills' new offensive coordinator. Whitehead was asked if that might make the Jets tread carefully in this one.
"It's our [10th] game. You can't switch up too much," Whitehead said. "He's the same coach that was there a couple of weeks ago. They can't change the whole playbook. There might be a different order to how they run things, but football is football. You read your key and you take it to the play."
So while the Jets all around the defense might be ready for less Allen scrambling or more intermediate passing a particular avoidance of dangerous turnover situations, Whitehead will be on his mark and ready to add to his numerological portfolio. After all, he leads the team not only in interceptions but also with nine pass defenses and the secondary with 52 tackles.
And as he told Reed, the interviewer and not the interviewee, he's got his eye on something else.
'I'm hoping and praying that he does go at me," Whitehead said, "because I want to get number five."
See the Jets back on the practice field on Thursday during Bills week.