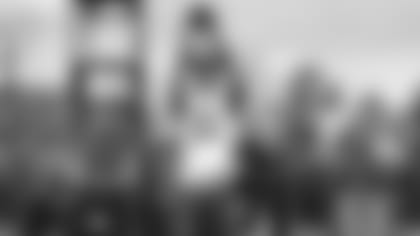 Sam Darnold could have more weapons at his disposal Sunday in Miami. Head coach Todd Bowles told reporters Friday that running back Eli McGuire was "trending towards playing" and the club could make that roster activation this weekend. And the Jets two receiving yardage leaders — Robby Anderson (17-314-3TD) and Quincy Enunwa (22-287-1TD) — were limited at practice and both will be game-time decisions.
McGuire, who rushed for 315 yards and added 17 receptions his rookie campaign, had a strong spring and is eligible to return after missing the first eight games while on injured reserve with a foot injury.
"It's just good to have him back because he's very versatile," Bowles said of McGuire. "He does some things on special teams to help us and he does some things in the backfield."
Enunwa (7-92) and Anderson (3-27) combined for 10 receptions and 119 yards in the 'Fins 20-12 win over the Jets in Week 2. Anderson is a South Florida native who had five catches and a scoring grab in the Jets' 31-28 loss at Miami last October. Darnold, who became the youngest quarterback to pass for more than 300 yards when the threw for 334 in the teams' first meeting, will get another crack at a defense that intercepted him twice and sacked him three times at MetLife Stadium in September.
"Obviously it's a divisional game and going down there to Miami it would be huge to get a win but again it's huge to get a win every single week," Darnold said. "Just taking it week by week, again it's a little bit different now playing a team for the second time in one year. It's something you don't really do in college unless you're playing a team that you played in the regular season and then like in a PAC-12 championship game."
Only TE Neal Sterling (concussion) was ruled out of Sunday's contest while LB Kevin-Pierre Louis (foot) and CB Trumaine Johnson (quad) are doubtful. In addition to Anderson and Enunwa, the Jets also have three other players questionable for Week 9 action: WR-KR Andre Roberts (back), DT Steve McLendon (ankle) and OLB Frankie Luvu (neck). It appears Darnold will also have his center back as Spencer Long (finger/knee) has been a full participant the last two practices after missing last week's contest against the Bears.
Familiarity Breeds Contempt
November is a month inside the division for the Jets as all three of their games come against AFC East foes. Second-year safety Jamal Adams' focus is on the Dolphins this Sunday before the Bills in Week 10 and the Patriots in Week 12.
"We took some positives in that (Week 2) loss to where we can add to this one," Adams said. "Knowing what to expect, a little bit more film study. Those guys know us, we know them, and it's going to be a tough matchup."
The Green & White's second meeting with the Dolphins features a different Miami signal caller in Brock Osweiler. Osweiler has lost two of this three starts under center this season and will continue to be without wide receiver Albert Wilson (hip/IR). He could also be missing wideout Kenny Stills (groin), who participated in the media portion of Miami's Friday workout. Despite a banged-up unit, Adams said the Dolphins offense brings a lot of energy.
"On offense, they score a lot of points," he said. "They have a lot of guys that are very talented and that can run. We have a strong test at hand and we hope to go out there and play our best ball and get a win."