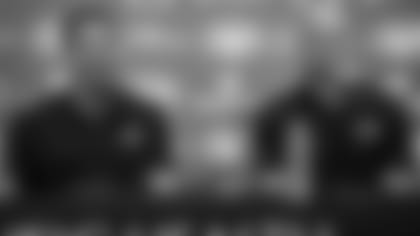 Aaron Rodgers is a member of the New York Jets. Simply saying those words is going to take some time to get used to.
And the reaction throughout the organization -- from Chairman Woody Johnson to GM Joe Douglas and HC Robert Saleh, to OC Nathaniel Hackett and Green & White legend Nick Mangold -- was captured in a single word during Wednesday's introductory press conference at 1 Jets Drive. That word was surreal.
"I remember watching Aaron Rodgers playing a few years ago and he was smiling because he knew the defense he was going against and he was having fun," Mangold told team reporter Eric Allen after the press conference. "It was like watching a beautiful maestro coordinating, changing things. That is the quarterback's job, he's smiling while doing it. He enjoys the game. Talking about younger players, core players, having those younger guys will add to that excitement and I think it will all come together really well."
Right after the conclusion of the 2022 NFL season, a crucible in which the Jets raced to a 7-4 record, only to lose the final six games, Mr. Johnson spoke with reporters and said that the lone missing piece was a veteran quarterback. From that moment on, Douglas and Saleh -- with the support of Mr. Johnson and his brother Christopher -- embarked on a quest to get their man.
"We've created a team that Joe and Robert have put together, a culture," Mr. Johnson told team reporter Caroline Hendershot. "Last year we were just missing one part, it was obvious to everybody. Now we've got a defense that is special and now a quarterback.
"I think it says a lot about the culture and opportunity we've created. He's a very smart guy and he made a good decision based on what we've done and what we've put together. He's already memorized [the names of] all the players. He'll work with his skill players, with their coaches, and he has a good relationship with Hackett. He loves the defense. It's all going to be good. It's going to be great."
Douglas said that the pursuit of Rodgers, who played 18 seasons in northeastern Wisconsin for the Packers, began months ago. It was a challenge as the Jets waited for Rodgers to emerge from his darkness retreat, met with him in his native California and then had to hammer out a deal with the Packers that only was finalized this past Monday.
"A Hall of Fame quarterback, it's surreal," Douglas said. "There were a lot of conversations. A lot of travel. But ultimately, we got it done.
"Aaron is an unbelievable player who sets a high standard for himself and his teammates. It's great to have him around the first-, second-, third-year players and help them grow. I think he will energize everyone."
For his part, Rodgers said several times that he is particularly intrigued to be working with Saleh, a guy he faced several times when Saleh was the defensive coordinator in San Francisco. Hackett also was directing the Packers' offense against Saleh's 49ers' defense.
"Robert and I worked together in Jacksonville for two years," Hackett told team reporter Ethan Greenberg. "I have so much respect for him. I've gone against him when he was at the Niners. That was really important to me to come back in and work with someone I respect so much. There are so many familiar faces [among the coaching staff], it looks like a great group of guys. I used to have a great time here when I visited my father [Paul Hackett] when he was with the Jets, when he was OC here [2001-4]. Just to be a part of something like that, the guys, the people, and an exciting opportunity."
For Saleh, a well-known defensive guru, the notion of having a coveted "finisher" at quarterback offers tantalizing possibilities.
"I'm excited to start working with him ... tomorrow," Saleh said. "I'm excited for the whole organization. This is a quarterback-driven league and his résumé speaks for itself. For one of the best of all-time to come here, he will naturally elevate other players. It takes 52 others on the roster. He'll do his thing, but we have to do our part, too.
"When you look back at last year, the last six games left a sour taste. In the NFL, it's about the fourth quarter. Finishing drives. We had opportunities last year, but it didn't work out for whatever reason. A guy like him, talk about an offense and we want finishers, on defense you want closers. He has a history of being able to finish drives in critical moments."