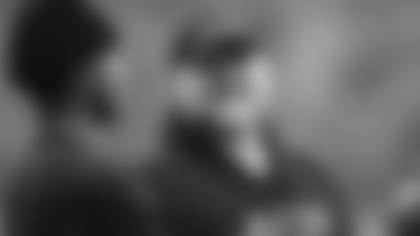 The Jets' player talent acquisition has continued, and even though the big signings such as QB Aaron Rodgers via trade before the draft and RB Dalvin Cook being signed as a veteran free agent last week have yet to make appearances on the field, everyone can feel their presence around One Jets Drive.
Including Jets general manager Joe Douglas. And of course, Joe D and his staff have had a little something to do with the additions.
Even though Rodgers may not take a game snap until Sept. 11 and opening night against the Bills, Douglas said of No. 8: "The leadership is unbelievable. Aaron's come in and mentored every player on our roster, established relationships with everyone in the building. It's just special seeing him every single day."
Cook, meanwhile, has made a strong RB position even stronger.
"The running backs room is a really deep room," Douglas told WCBS broadcasters Ian Eagle and Anthony Becht during a second-quarter conversation. "We've got a lot of talented players. We'll have a lot of tough decisions to make. ... Dalvin's an outstanding player who's very explosive."
Douglas also had some sound bites about players such as second-year WR Garrett Wilson — "We all know the physical skills he has, and he came in day one ultra-mature. He gets it" — and edge-rushing first-round rookie Will McDonald IV — "A very unique athlete, very elusive, a lot of different moves, very slippery and great lower-body flexibility."
The GM wasn't asked about a lot of other big-name Jets, such as DL Quinnen Williams, CBs Sauce Gardner and D.J. Reed and veteran-import wideouts Allen Lazard, Mecole Hardman Jr and Randall Cobb. But everyone who follows the Jets gets the picture that Douglas has helped paint for the 2023 season that will be unveiled soon. As he said about this year's draft of McDonald and the 2022 draft haul that created so much buzz:
"Anytime you draft a player, you're going to be attached to that player. Our scouts and coaches do so much work, every spring, every fall, all summer. When we do this work, when we take a player, so much time and effort goes into it and you have that accountability with that player. It's good to see not only the draft guys but also the undrafted guys, it's good to see them show up."