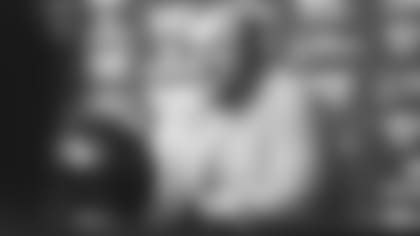 Joe Douglas said lots of talks with lots of teams about lots of players produced no last-minute deals before the NFL's trading deadline today, so the general manager and his team are "excited about the guys we have" that will do battle over the season's final 10 games.
"We made a lot of calls on a lot of different positions," Douglas said of the process that unfolded leading up to the deadline. "But it takes two to tango. We made a lot of calls, but we didn't get a lot of deals done."
The Jets made their only trade last week when they sent Mecole Hardman Jr. to Kansas City. Many thought that with the offensive line suffering several injuries recently, including two that landed starting C Connor McGovern and interior lineman Wes Schweitzer on short-term Injured-Reserve, made official earlier today, that OL would get a trade infusion.
That didn't happen, but Douglas, an old offensive lineman himself, is confident that the players the Jets have will get the job done.
"When people talk about the New York Jets, we want them to say they have the best offensive and defensive lines in football," Douglas told reporters at the Atlantic Health Jets Training Facility in his first in-season media availability. "So I think the frustrating thing comes with the best lines is there's real continuity in having the same guys playing for long periods of time. And we haven't been able to achieve that for a lot of different reasons, keeping people healthy not only on the offensive line but all across the board.
"On the other side of the coin, I love where our line is at from a mentality standpoint, being able to weather any storm thrown at them. It's a credit to our coaches and whoever's in that room. Whatever happens, they're prepared. Whether they have to play right tackle one snap and center the next snap, they're ready to weather the storm."
The onus will be on head coach Robert Saleh, offensive coordinator Nathaniel Hackett, O-line coach Keith Carter and assistant OL coach Ben Wilkerson to sort things out after losing incredibly versatile Alijah Vera-Tucker to his second season-ending injury in two seasons, then vs. the Giants losing the seemingly indestructible center McGovern and backup C-G Schweitzer.
On that reverse side of the coin, though, the Jets should regain second-round rookie G-C Joe Tippmann soon and T Duane Brown is getting closer to returning to practice. And they all seem to have that amazing bring-it-on attitude that their GM pointed to. One who embodied that spirit on Sunday was another interior lineman, Xavier Newman, who went from being a practice-squad elevation into logging 46 offensive snaps, first at RG for Schweitzer, then at C after McGovern went out.
"Xavier's another guy Keith had a really good feel for, and he fits the profile of what we're looking for up front — tough, physical, versatile, very coachable, just a high-level competitor," Douglas said. "And I think you saw the resiliency of our team in microcosm, you saw the resiliency in Xavier having a couple of snaps that got a little squirrelly, but he didn't flinch or bat an eye. He kept competing and played his tail off."
The Jets did make one interesting acquisition, not by trade but through adding a veteran street free agent to their practice squad by signing tackle Rodger Saffold (6-5, 325), who's played 176 games (173 starts) for the Rams, Titans and last season for the Bills and earning Pro Bowl status his last two seasons. Douglas said Saffold also fills the Jets' OL mold.
"Rodger's an experienced guy who's played a lot of games. He's tough, smart, he knows Keith Carter well, being with him in Tennessee," the GM said. "He's exactly the kind of tough competitor with the mental makeup to add to the group. I think he's going to be a really good acquisition for us."
Douglas was asked about other topics, one having been raised last week about top-line veterans in RB Dalvin Cook and DL Carl Lawson hearing their names mentioned in trade rumors. Those rumors obviously didn't come to fruition, but Douglas said he's glad they didn't because he likes his roster beyond his banded-up OL as well.
"Those guys are great teammates and players," he said. "I have a feeling we're going to need those guys a lot down the stretch. They're assets to this team and we're glad they're here.
"Seven games in, we're 4-3 and there's a lot in front of us," Douglas said. "At the end of the day, we did what we felt was best for our team and we're excited about the guys we have."