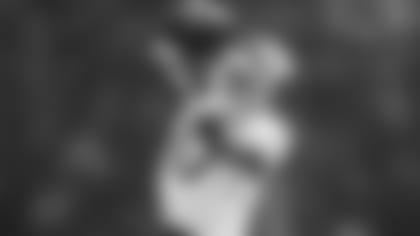 As opening night for the Jets gets closer each day, second-year wide receiver Garrett Wilson is ready to see the 2023 Jets' product on the field for a regular season game.
"I mean we're so excited to get out there and play but it honestly seems so far away," Wilson said of the team's Monday night meeting with the Bills at MetLife Stadium. "We got three or four days of putting in work here to get better and ready for that game. We're really just excited to get in here, put in that work every day, and make sure that we're ready to play on Monday to give ourselves, our fans, everyone that's been so loyal to this fan base for so long, something to root for. At the end of the day, we know what we have in here and now it's time to go show the world."
Wilson finished his 2022 season with 83 receptions for 1,103 yards and 4 touchdowns, earning him the Offensive Rookie of the Year award. While he set the bar high last year, he is not setting any personal goals for his second season.
"I've always tried to stay away from that just because I'm confident in my ability and I know you know what I bring to the table," Wilson said. "When you have a team like this, a quarterback like that, and great players around you, it's just really do your job and then see where you stack up. I'm confident that if we're getting to where we want to be in the playoffs, I'll be just fine. I don't want to be chasing anything except for being great as a team and the greatness will come along with it."
As far as what Wilson is trying to specifically achieve this year, it includes studying a lot of what another No. 17, WR Davante Adams, used to do on the field with QB Aaron Rodgers. Wilson has said he has watched Adams and Rodgers connection on the Packers almost every day since Rodgers' arrival in New Jersey.
"We go back and watch the 2018, 2019, 2020, Green Bay Packers and I mean, [Adams] was un-guardable at that point and Aaron didn't miss," he said. "They were impressive. It's just easy for me to see [Adams] do it and be like, ok, that's what I want to do or that's how I should try and make it look. Just knowing how great he was, seeing how he made it work, because this offense is catered to a receiver. Everything looks the same until it doesn't, and as a receiver that's what you want, and Davante did a great job with it. Like I said, that's every day that I'm trying to take something from those years that he played with Aaron and it's fun to watch every time I get to go back through the season."
Still learning and improving his connection with his new QB every day, Wilson was asked if there is anything that could beat playing Monday Night Football against an archrival for the Jets' home opener.
"No, you know starting 1-0 against our archrival is the only thing I can think of that would beat it," said Wilson, who had 14 receptions for 170 yards against the Bills in two games last season. "As far as the opening game, you can't ask for much more than that. You get a Monday night game, I know I've never played on Monday night, at home, you know it'll be special."
See photos of the Jets during Friday's practice at 1 Jets Drive.