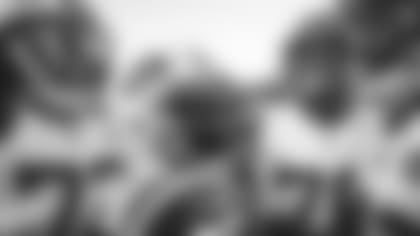 The Jets tried falling from ahead at Tennessee a week ago. They tried rising from behind at Buffalo on Sunday.
They definitely prefer the latter.
"I'm very happy for the guys," head coach Todd Bowles said of his jubilant New Era Field locker room following the Jets' 27-23 comeback win over the Bills. "They haven't won in a while, and they've been taking a lot of heat and well-deservedly so, and they still came out fighting.
"To see them smile makes me smile."
"It says a lot to come out and close out the win," S Jamal Adams said. "We understand that we've got to come out and finish at crucial times and we did that."
The feelgood part speaks for itself. Last week the Jets held a 16-0 lead, only to see the Titans slowly eat away at it until Marcus Mariota — with the aid of three Jets defensive penalties — led them down the field to a last-minute go-ahead touchdown.
This time Sam Darnold orchestrated his first pro fourth-quarter comeback win as the Jets scored the go-ahead TD with a little over a minute remaining on Elijah McGuire's fourth-and-goal 1-yard keeper. Then the defense, which committed five first-down penalties Sunday — but only one in the second half — applied the right pressure to force Bills rookie QB Josh Allen to cough up the ball a third time in the game and a second time on an interception snagged by CB Trumaine Johnson, this one with 59 seconds left.
It also felt good to take it to the Bills after their 41-10 win at MetLife Stadium four games ago.
"Yeah," WR Robby Anderson said of that difficult defeat, "because of that and just in general we needed a W. We had a lot of built-up frustration."
LB Jordan Jenkins was feeling that frustration very early in the game — on the game's very first offensive play, when he was chop-blocked by second-year LT Dion Dawkins.
"That play really screwed up my ankle. It could've been a career-ender," Jenkins told ESPNNewYork Radio. "All I could think of when I went inside was all the Buffalo fans laughing and cheering. It just ticked me off. The whole time I was inside, I just knew I wanted to finish the game. I came back out and I heard they scored and it made me even more mad."
But anger wasn't what got it done. The D, after giving up two touchdowns on the Bills' first three drives, gave up no TDs and three field goals the rest of the way. The offense for the day scored three offensive touchdowns — as many as they scored in their previous five games combined — and 14 points in the fourth quarter, their most in the final frame under Bowles since scoring 17 vs. Miami at home in 2015.
And after being outgained, 230 yards to 68, in the first half, the Green & White rebounded for a 180-138 second-half advantage.
The upshot was that after losing last week's comeback for their sixth straight L, the Jets posted their largest ever comeback at Buffalo in the 59-year history of their rivalry with the Bills. They came back from a 14-3 second-quarter deficit to beat the Bills at home, 22-17, in 1994. But the largest deficits they ever faced in beating the Bills in Western New York were a pair of 10-point holes, in 1984 and on opening day 2002.
"It was awesome, seeing everybody celebrating and happy in the locker room after this one," Jenkins said. "It's a great feeling and we want to carry this one the rest of the season."