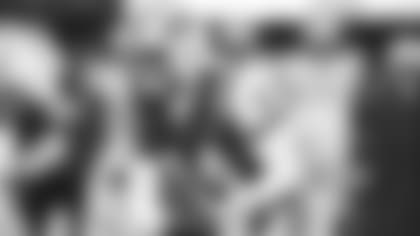 Well, the 2018 season has come and gone for the New York Jets. With the busy offseason already underway with a nod towards the future, we thought we should take one last look back and review the total playtime percentages from the entire 16-game slate.
OFFENSE
The Jets ran a total of 1,001 plays on offense this season, which averages out to 62.5 plays per game. That total was down slightly from 2017 when they totaled 1,036 offensive snaps (64.75 per game). The Green & White ranked 26th in the NFL in plays by the offense.
Left tackle Kelvin Beachum and right guard Brian Winters were the only two members of the offense to play in all 1,001 snaps in 2018. Last season, fellow o-lineman James Carpenter was the only member of the offense to appear in every play as Beachum fell one snap shy of making it perfect attendance for two consecutive years. Next up among the linemen was right tackle Brandon Shell, who was in on 850 plays, good for 85%. Shell was on his way to becoming the third member of the line to be in on every play if not for suffering a season-ending knee injury in Week 15 against Houston. First-year Jet Spencer Long split his time between center and left guard, totaling 805 plays (80%). Carpenter held his usual left guard spot for the first ten weeks (all 624 snaps up to that point) before a shoulder injury would put a premature end to his season. Jonotthan Harrison started eight games at center, appearing in 51% of the snaps (506 total). This marked a sizeable increase from the 103 plays (10%) Harrison played in his first season as a Jet in 2017.
Quarterback Sam Darnold became the youngest Week 1 starter in NFL history in 2018. The rookie started 13 games, working around a foot injury that sidelined him for three contests. For the year, Darnold completed 57.7% of his throws for 2,865 yards with 17 touchdowns and 15 interceptions. Over the last four weeks of the season, he threw six touchdowns to only one interception. Darnold saw action on 809 snaps (81%), placing him second among first-year signal callers in total plays (Baker Mayfield 906) and third in playtime percentage (Mayfield and Josh Rosen 83%). Darnold became the just the third rookie quarterback in the last half-century to start at least 13 games for the Jets, joining Mark Sanchez (15 starts in 2009) and Geno Smith (16 starts in 2013). Veteran Josh McCown appeared in four games, starting three, and totaled 192 plays (19%).
Robby Anderson led all wide receivers, as well as skill position players, with 682 snaps for 68%. Anderson was tops on the team in all major receiving categories including receptions (50), yards (752) and touchdowns (six) despite missing two games due to injury. Jermaine Kearse was next up among wideouts with 626 plays (63%). Kearse hauled in 37 grabs for 371 yards and a score. Quincy Enunwa appeared in eleven games, collecting 38 catches for 449 yards and a touchdown. Enunwa was third among receivers with 525 snaps (53%). Next up was Pro Bowl return man Andre Roberts, who was in on 196 offensive snaps (19%), followed by Terrelle Pryor's 171 plays (17%) in just six games before his release. Deontay Burnett was a pleasant late-season surprise, appearing in 128 snaps (13%) at receiver.
Chris Herndon led all tight ends in playing time with 624 snaps (62%) while finishing second on the team in receptions (39), receiving yards (502) and touchdown catches (four). Among first-year tight ends, Herndon was tops in receptions, second in yards, and tied for first in touchdowns while suiting up for all 16 games. Eric Tomlinson played 353 snaps (35%) and Jordan Leggett was in on 326 (33%). Leggett finished the year with a catch in each of the final eight games of the season. Neal Sterling also was on board for 129 plays in the offense (13%).
At running back, Isaiah Crowell was the team's leading rusher with 685 yards and six touchdowns. Crowell also led all backs with 333 snaps (33%) while appearing in 13 games. Eli McGuire was next up with 318 plays (32%) despite missing the first half of the season nursing a broken foot. The second-year pro would lead the backs in playtime in seven of the eight games he appeared in. Veteran Bilal Powell wrapped up his eighth year in green and white while registering 208 snaps (21%). Powell's season was cut short after just seven games due to a neck injury, but not before he compiled 343 yards on the ground. Rookie Trent Cannon was next up with 185 plays (18%), totaling 257 yards from scrimmage and a score.
DEFENSE
The Jets defense was on field for a total of 1,121 plays this season, which averages out to 70 plays per game. That total is up a bit from last year's total of 1,116 (69.75 per game). The Green & White ranked 28th in the NFL in most plays by the opposition.
Last season former linebacker Demario Davis was the only Jets player to appear in every one of their defensive snaps. This year, there were no members of the defense to make that claim, however two players came awfully close to doing so. Pro Bowler Jamal Adams was one snap shy of a perfect season (1,120), only missing one play against Chicago in Week 8. As a rookie in 2017, Adams played 1,101 snaps and only sat out a total of fifteen. The second-year pro finished second on the team in tackles with 115 while adding 3.5 sacks, 11.5 tackles for loss, one interception and three forced fumbles. Linebacker Avery Williamson concluded a standout debut season in green and white, appearing in 1,115 plays (99%) while registering a team-best 121 tackles to go with three sacks, six tackles for loss, one interception and a pair of forced fumbles.
Leonard Williams led all defensive linemen with 867 snaps (77%). The fourth-year pro has yet to miss a game in the NFL and totaled five sacks in 2018, the second highest total of his career. The most sacks by a defensive lineman came from Henry Anderson, who closed out his first season with the team tying for a team-best (and career-high) seven sacks. Anderson was in on 668 plays (60%), which was second among the D-linemen. Steve McLendon was next up with 471 snaps (42%) with fellow vet Mike Pennel adding 358 plays (32%). Rookie Nathan Shepherd finished his first season in on 343 snaps (31%), contributing 15 tackles including 1.5 for loss.
After Adams and Williamson, next up on the defensive side of the ball in terms of playtime was Mo Claiborne. The veteran corner appeared in 1,003 snaps (89%) in his second season with the club, an increase from the 82% he earned in 2017. Claiborne finished third on the team with a pair of interceptions while leading the unit with fourteen passes defended. Next up among the DBs was Darryl Roberts, who was in on 721 plays (64%) while filling multiple roles at both corner and safety. The third-year pro registered 48 tackles, three for loss, to go with an interception. Buster Skrine played 694 snaps (62%), slightly ahead of Trumaine Johnson's 670 (60%). Johnson led the team with four interceptions in his first year with the Jets despite only appearing in ten games. Starting safety Marcus Maye experienced an injury-marred sophomore season, appearing in only six games. His season was highlighted by a 104-yard interception return against the Broncos which fell just shy of the end zone as time expired. Maye saw action in 393 plays (35%). Rookie Parry Nickerson contributed 212 snaps for 19 percent in his freshman season.
At the linebacker position, Williamson might have been the one constant but still had plenty of help. Darron Lee had the fifth most snaps of any defensive player with 808 (72%) despite only appearing in twelve games. Lee finished third on the team with 74 tackles, and he picked off three passes, one of which was returned for a touchdown. Jordan Jenkins turned in the best season of his young career, tying for the team high with seven sacks. Jenkins also had nine tackles for loss and forced a pair of fumbles while being in on 660 plays (59%). Brandon Copeland also registered a career best in sacks with five while appearing in 55 percent of the snaps (611). Rookie Frankie Luvu made a name for himself in year one, appearing in 442 plays (39%) and registering three sacks. Neville Hewitt's role in the defense increased as the season went on. He played only fifteen snaps in the first twelve games before finishing with 267 (24%).
SPECIAL TEAMS
The Jets special teams unit was one of the best in the NFL in 2018. They were paced by a pair of Pro Bowl performances from Andre Roberts and Jason Myers, both completing their first seasons with the club. Roberts was also voted as a first-team All-Pro kick returner, averaging 29.4 yards per return with a 99-yard touchdown against Green Bay in Week 16. Myers converted 33 of 36 field goal tries, including six of seven from 50-plus yards. Leading the way on special teams were Terrence Brooks with 392 snaps (79%) and Brandon Copeland with 328 (66%). Hewitt was next up with 283 (57%) and Charone Peake added 241 (49%). Safety Rontez Miles was limited to just eight games this season but still contributed 201 snaps (41%).