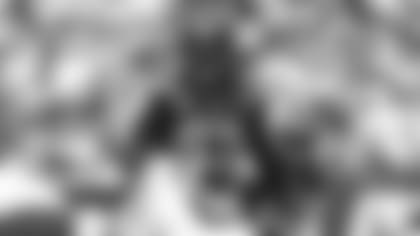 Perhaps the impact of C.J. Mosley on the Jets' defense was best measured Sunday by comparing the Jets' fortunes when he was available and when he wasn't.
Before Mosley left with a groin strain late in the third quarter, the Jets still held a 16-3 lead, held a 4-0 lead in takeaways — Mosley had two of them plus a touchdown in the first half — and barely trailed Buffalo in yardage, 195-193. In the fourth quarter, the Bills outscored the Jets 14-0 and outgained them 175-30.
"It's really frustrating," Mosley said following the Jets' dispiriting 17-16 loss to their division rivals on opening day at MetLife Stadium. "It's always hard when you want to be out there with your brothers and you couldn't. We've got to take this lesson in stride, we've got to be accountable to everybody and just do the best we can."
"You definitely feel it. That's why they made him captain," said DL Leonard Williams following the Jets' dispiriting 17-16 loss to their division rivals on opening day at MetLife Stadium. "He has a good presence on the defense. Everybody respects him and he's also a great player. He showed it today. He took control of the defense. It was loud in there at times and he made sure he communicated well. He's a great leader and I'm glad to have him on this team."
That, though, was an issue for the Green & White. Head coach Adam Gase and Mosley teammates tried to insist that the Jets needed to respond to a stepping-to-the-plate situation when Mosley left and the inside LB spots were manned by Neville Hewitt and rookie Blake Cashman.
"You have a guy that's a pretty good player — we all know that," Gase said. "Anytime a guy like that goes out, we just have to do a good job of rallying the troops and making sure everybody is good, both in calls getting out and all of those things they have to deal with. I feel like there were times where we settled down and we were good. They made some plays, too. That's the toughest part of the whole deal. They have good players, too. We have to play a little bit better."
"It didn't affect us," said LB Jordan Jenkins, who also had his dynamic moments in the first half of the game. "We rotate guys in and out in practice. We have the utmost faith in all those 'backers and they kept making the same calls the same, they were making all the checks. It was just a different person back there."
"I feel like our energy died, man," S Jamal Adams said about the Bills' comeback. "We weren't playing team ball. So anytime you do that, the [other] team is going to take advantage of it."
But did Mosley's absence contribute to that loss of energy.
"Next man up. No," said Adams.
There is no doubt, though, that Mosley was as advertised when he arrived as an unrestricted free agent from five seasons in Baltimore, during which time he was tied for second among all NFL linebackers with 14 takeaways. He wasted no time adding two more to that — his interception and 17-yard return of a first-quarter tipped pass and his second-quarter fumble recovery of QB Josh Allen's fourth-and-1 fumbled snap at the Jets 36.
He also had a no-gain stop on Frank Gore and an end zone pass defense of an Allen long ball for John Brown, the play on which he said he suffered his injury.
As for the fourth quarter with him sidelined, C.J. was philosophical.
"It's a learning process," he said. "As a defense, we can only control what we can control. We couldn't control the plays they got in the fourth quarter, and we got outpositioned on some of those plays. We played good in the fourth. They played better."
Gase said of Mosley and rookie Quinnen Williams, who left the game with an ankle injury, "I don't have a timetable yet. I will know more tomorrow."
Mosley said he'll get some treatment and then try to get ready for the Browns on Monday. "That's pretty much the plan," he said.