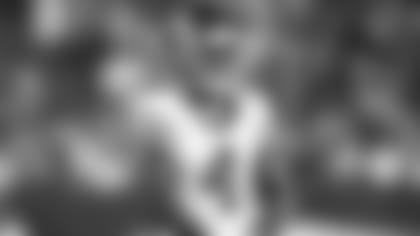 There are a lot of ways for NFL offenses to change up their passing approach and for NFL defenses to alter their pass coverages. Receivers line up or motion to X and Z and slot and back again. Secondaries can stay straight left and right or mix it up or match a top corner with a top receiver.
Anything's possible when the Jets take on the Raiders in Allegiant Stadium on Sunday Night Football, but a key matchup that looks to be in the cards for this game will be Jets right corner D.J. Reed on WR Davante Adams, Pro Bowler, All-Pro and All-AR (Aaron Rodgers) first-teamer.
"A few guys you can tell really take pride in their work. I would say he's an artist," Reed told newyorkjets.com's Ethan Greenberg this week. "And by that, I mean he's just very technical with everything he does. Every step means something, he's very deliberate with his releases from the line of scrimmage. You can tell he watches film on the corners that he's playing. Even at the top of the route, he knows how to manipulate leverages, he knows how to create an illusion of going somewhere and actually going somewhere else.
"Obviously, he can catch the ball, he has decent size, he can run, he has decent speed. He's just an overall great receiver. That's the reason he's always at the top of the list every year when you talk about the best receivers in the league."
But Reed this year is A-number-one and top of the list as well. When the Jets' corners are mentioned, it's usually as Sauce Gardner and Reed as 1 and 1A. But Reed is No. 1 after nine weeks of the season, the top-graded cornerback in the NFL, according to Pro Football Focus.
"Quite honestly, it doesn't mean anything to me. Obviously it's nice to hear that," Reed said. "But I'm just focused on doing my best and striving to be the best version of myself to help our team win."
Being that best version doesn't mean racking up gaudy pass defense numbers. In fact, Reed has no interceptions and also hasn't been credited yet with his first pass defense. Yet PFF gives him their top rating at corner this week with an 86.9 grade, built on 85.5 in coverage — where he has yet to allow a touchdown catch this season — and an 82.5 in run support.
The PFF ratings have their strong supporters and their naysayers. But one interesting measure that the NFL evaluators have come up with over the past two years concurs with what Reed has observed about his own game in his two Jets seasons. Reed's grade last season was 72.5, 23rd among corners.
"I felt like this season, just coming in, I know the defense more, being my second year playing it," he said. "Last year I felt I was having a good season up to the first nine weeks. When the bye came, I didn't really continue training. I kind of just took that week off. So this year I emphasized during the bye week to make sure that I was working out. I definitely did that, I'm happy I did that, so I can finish out the season stronger than I did last year, in my opinion."
Again, based on PFF's grades, that plan is paying off. In his first game back in action after sitting two games in the NFL's concussion protocol, Reed's play against the Chargers earned him a 91.8 grade, fourth-highest in the league. And no matter the grades, or whether it's Sauce and D.J. or D.J. and Sauce, Reed offered the most important thing he can do, against Adams under the Sunday night lights and for the rest of the season.
"Just do the same things I've been doing," he said. "Just winning at the line, playing with great eye discipline, being aggressive in my cues from my film study, and just trusting what I see."
See the best photos from Thursday afternoon's practice during Raiders week.