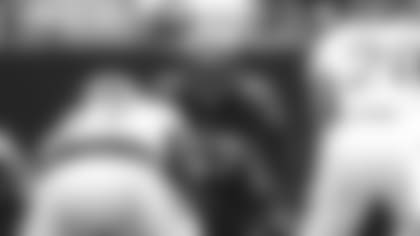 The Jets players must have had a run on their local Halloween store, trying to find all of the Unlikeliest Hero costumes to sport for Sunday's game against the Bengals at MetLife Stadium.
At least Mike White was ready-made for his costume, having gotten the starting QB nod early in the week. But 6-3, 267-pound Shaq Lawson, hero and Jets leading interceptor for the game and the season? How'd he fit into that uniform?
"That was my first interception ever," Lawson told reporters after the Jets' 34-31 surprising of Cincinnati. "I didn't even know how to act when I got it."
Ultimately he acted the role of hero, one of many. He was one of the last defensive players to rise up and smite the mighty Stripes. Lawson's play was to rush QB Joe Burrow, who pivoted counterclockwise and intended to throw a slip screen to highly dangerous rookie WR Ja'Marr Chase. Instead, Burrow found Lawson's outstretched arms and Lawson blocked out the QB as he waited to catch the pop fly and give the Jets offense the ball back at the Cincy 15.
"Great play by Law," said LB C.J. Mosley, who returned action with a team-high 10 tackles after missing the Patriots game with a sore hamstring. "That's a Hall of Fame defensive end type of play. I think about Terrell Suggs doing that all the time, tipping the ball and getting it to himself. What a great time to have that happen."
Great not only because it ended the Jets' much-maligned interception-less streaks of eight full games and 370 opponent passes without a pick dating to last season, but also because it set up White and the offense to move to the last eight points they needed to take their 34-31 lead with 3:45 to play.
"Honestly, it's just the resiliency we showed through this whole game," Mosley said of observations that applied to not only his defense but to his team. "We put the formula on tape. We have to believe in ourselves, we have to believe the process, we have to believe in this team and the coaches. And every time we get a play call, we have to believe in what we're doing. I think the guys are starting to see that."
Despite giving up four touchdowns, three of them on some patented 70-yard Bengals drives, the D made its presence felt early, midgame and late in meshing with the offense to fashion one of the most stunning outcomes of the NFL's first eight weeks:
■ White's first "incompletion" was a pass deflection/interception returned by S Jessie Bates to the Jets 1-yard line late in the first quarter. All the defense did was stonewall the Cincy offensive machine, turning Joe Mixon aside for a pair of 1-yard losses, then forcing Burrow into an incompletion and a fourth-down sack by Quinnen Williams. The last time the Jets faced 1st-and-goal at their 1 and goose-egged the opponents was in 2009 at New Orleans.
■ After Lawson's pick, the defense needed another stop to prevent the visitors from tying or going ahead in the final minutes. Consider it done as Marcus Maye tackled Mixon for another yard loss, then Burrow threw an incompletion and on third down was sacked by Sheldon Rankins. After a punt, the offense ran out the final 2:08.
■ In and around those clutch stops, the pass defense that was shredded by Mac Jones and the Patriots gave up some long balls but held the brilliant Chase to an unbrilliant three catches for 32 yards and a 2-yard TD.
■ Also in and around those stops, the run defense that was punctured by Damien Harris and the Pats rose up and shut down the Cincinnati ground game as Mixon managed 33 yards on 14 carries and the Bengals, who had been averaging 107 rush yards/game and 4.0 yards/carry, to season lows of 41 yards and 2.3 yards/carry.
"Brick was awesome again," head coach Robert Saleh said of defensive coordinator Jeff Ulbrich. "I thought the plan was awesome in that we wanted to keep it in front. We let one behind us in the second half, it was a good play design, we've just got to play it better. But I thought the guys did an unbelievable job executing, especially in the first half. 'Give us a blade of grass and we'll protect it' showed up in the first half. We got the turnover at the perfect time, they battled their butts off, didn't flinch, and were able to finish it off in the four-minute."
All a part of the education and maturation of this unit. Veteran LB Jarrad Davis, who had three solo tackles in his Jets debut after rehabbing an August ankle injury until returning to practice during the week, revealed what his and his teammates' showing vs. the Bengals said about where the Jets are and where they're planning to go.
"We're constantly, every day, trying to establish our standard, establish what we're going to be about," Davis said. "Coming out today, we just showed the heart that we have. ... A lot of us know what this has been here. I came from Detroit, so I knew what that was there. That's the biggest challenge, being able to hold yourself accountable and stick to that standard every day, not only when it's gameday but in practice, too."
"It's hard to win in this league," DL Foley Fatukasi said. "Each week you're able to get a win, just cherish it. We've got a quick turnaround against Indy. They're a good team. We've got to quickly put this to bed."