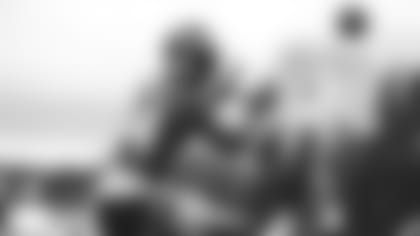 Jets head coach Robert Saleh announced on Wednesday that QB Zach Wilson, who is rehabbing after surgery to fix a torn meniscus and a bone bruise, will keep him sidelined until Week 4, at the earliest, against the Steelers.
Veteran WR Corey Davis knows how Wilson feels.
Davis underwent a season-ending core surgery last season and missed the final five games of the season. He now has been lending the second-year QB some advice while he rehabs.
"We have had few conversations when he is around," Davis said. "Obviously, he's trying to get back right so I don't see him as often but, when I do see him, I try to chop it up with him a little bit and just see where his mental is."
Wilson injured his right knee in the preseason opener against the Eagles and underwent arthroscopic surgery in Los Angeles. He has been at practice and has been in good spirits.
"I do it just to let him know where I was when I was at this position last year when an injury ended my season ended," Davis said. "But whatever I can tell that dude to help him out, I am going to do."
When they are not chatting, Davis has shifted his focus to Week 1 against Baltimore. He last played the Ravens in 2020 when he had 5 catches for 113 yards when he was with Tennessee.
"[The Ravens] are a strong team," Davis said. "They are coached well [by John Harbaugh]. They're polished, and they play hard. They have got some good DBs back there and good corners. They are all around good and they play hard. So, it is going to take a good game from us to go out there and do what we got to do to win."
With Wilson out, Saleh said Wednesday that former Ravens QB Joe Flacco will start for the Green & White in the opener. Davis is confident in whomever is under center.
"I am excited about it," Davis said. "Playing against his former team, Joe has been around the block a little bit, so it gives us confidence going out there knowing that he is a vet."
Last season Davis had 34 catches for 492 yards and 4 TDs in 9 games This season, he hopes to expand his role, starting in Week 1.
"Last year was last year," Davis said. "We have a lot to learn from that standpoint, but we are trying to take lessons from it and keep that in the past. New year, new focus, new team."