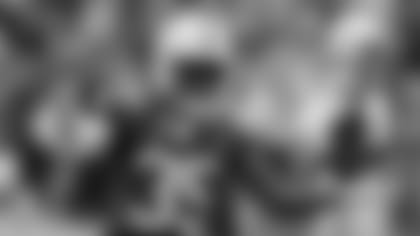 The Jets need to find a starting cornerback, maybe two, this offseason, and some Green & White fans are understandably uncertain that the team has found one of those starters in Pierre Desir.
After all, just take a look at Desir's itinerary: Washburn and Lindenwood, both Division II universities, fourth-round pick by Cleveland in 2014, waived by the Browns and Chargers in '16, the Seahawks in '17, then following three seasons in Indianapolis and a year after signing a three-year deal, released by the Colts in a salary cap move last month.
Desir understands the questions, and he has a ready, heartfelt answer.
"My journey is definitely unique," he told reporters on a recent conference call after signing with the Jets as a street free agent. "But when you look at so many different guys' paths into the NFL, everyone has a different story. And I know I'm just going to continue to do what I have to do to play. My dream is to play football, to play in the NFL, and I want to continue to do that. Sometimes things don't work out, but God always has a plan and I'm going to continue to push and continue to feel that drive of getting better every day. That's what I plan to do with the Jets."
Desir's football story is an island of uncomfortability in a seemingly lifelong rock climb up a sheer cliff, which maybe explains his acceptance of the rigors of NFL life. He was born and lived in poverty in Haiti until he was 4 years old, then moved with his family to inner city St. Louis, which wasn't much better. Finally, with the money his parents, Wilfrid and Marie, saved from working multiple jobs, they relocated to suburban St. Charles, MO — "eye-opening," Pierre said of the move — and he began work on his life's sports chapter.
He starred at DB and returner in high school, then did the same in college. He transferred from Washburn, in Topeka, KS, because Lindenwood is in St. Charles and he could be closer to Morgan, his wife and high school sweetheart, and an already growing family of their own.
Came the pro years and true enough, Desir bounced around. But his growth as an NFL corner was unmistakable. After three teams in three years, he settled in with the Colts from 2017-19, playing in 61 games, starting 36, and racking up five interceptions, 26 pass defenses and 161 tackles.
Last season was in fact a career year as he posted personal bests of three INTs and a team-leading 11 PDs in 12 games. Looking even closer, in Game 15 against Carolina, he had his first two-pick game, and his 5 PDs that day tied for the most by any NFL defender in a game in the past two seasons.
"I was dealing with a hamstring injury and missed a couple of games, so that kind of put me down a little bit throughout the year," he said. "But this is a business, you're only as good as your last performance. And I think I showed that I could still compete at a high level. Even missing four games, I was able to get three interceptions. I think my ceiling's very high. And I'm going to learn from what happened the year before and just continue to grow as a player and live out this dream of playing in the NFL."
Yet there's a little more to Desir's Jets arrival story. Even as he was still in the process of making another unsettling career move, he couldn't forget about the community he grew up in, especially considering the coronavirus battle that everyone is fighting these days.
"I saw that there was a need just for meals, with the schools being out," he told Olivia Landis of newyorkjets.com. "And I've been in those kids' situations, where the meal in school is maybe the only one some of these kids get during the day. I talked to my agency just to figure out some way I could help, and we partnered with the St. Louis Foodbank and were able to provide over 20,000 meals to a lot of families in this time of need when they're not able to get that food from schools or different organizations."
So now we know a little more about Pierre Desir — that his NFL career is trending upward and that he's a family man and that he's a people person, whether it be the people he's leaving behind or the people he'll be seeing just over the horizon. He of course hasn't been able to meet his new fans in person yet but he's got a good feeling about Jets Nation from his social platforms, and they from him.
"Fans have just reached out to me and showed so much support, so much love," he told Landis. "I'm just excited for the opportunity to have a fresh start and very excited to be a part of the Jets. I just can't wait to begin."