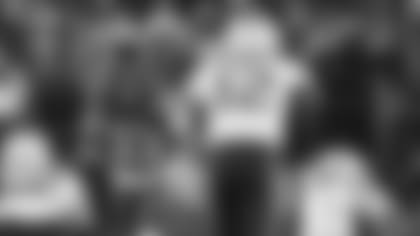 The NFL's G.O.A.T. is going-going-gone from the New England Patriots, and the AFC East's balance of power will never be the same.
Tom Brady, the biggest unrestricted free agency story of this year, made it mostly official Tuesday morning with a statement on his Twitter and Instagram accounts headlined "Forever a Patriot" and saying, amid his thanks and tribute to head coach Bill Belichick, owner Bob Kraft and his family, and his teammates, that "my football journey will take place elsewhere."
T.B. didn't say where he was headed in his goodbye message but word Tuesday night was that he has an agreement in principle to join, yes, T.B. — the Tampa Bay Buccaneers — a little more than one day before today's start to the NFL's unrestricted free agency signing period.
Thus something that Jets head coach Adam Gase said last month takes on new meaning.
"We obviously all want to say yes," Gase said about the Jets trying to take the division title away from the Patriots in 2020. "But I think one of us actually has to go and do it and figure out a way to jump in front of New England. It's tough because they've held onto the division for so long."
How long? Brady became New England's starter two games after Sept. 11, 2001, one game after Mo Lewis (with an often overlooked distracting assist from Shaun Ellis) KO'd then-starter Drew Bledsoe from the NE starting lineup with a crushing sideline hit in the Jets' game that year in Foxboro.
From then through 2019, the Pats won 219 of 283 regular-season games with Brady at QB (including 86 of 107 against AFC East opponents), which resulted in 17 division titles, 17 playoff berths, seven AFC No. 1 seeds, nine Super Bowl berths and six Super Bowl victories.
Then there are Brady's individual achievements, which either are or are among the greatest of all time. His 6,377 completions ,74,571 yards and 541 touchdown passes are second all-time in the NFL, his 9,988 attempts third. He's won three regular-season league MVP awards, been named to 14 Pro Bowl rosters and a league-record 30 conference Offensive Player of the Week awards. He's played in those nine Super Bowls, won those six and been named the MVP in four.
Over the years, a good chunk of Brady's statistics and victories have come against the Jets. As Gase indicated, if someone from the AFC East wanted to go deep into the playoffs, they had to find a way to avoid the wild-card route by beating out the Patriots for the division crown.
Now, despite Bill Belichick and his staff and players remaining, Brady's change of venues seemingly makes that a possibility. Where once their were red, white and blue statements, now there are questions:
Who, for instance, will now quarterback the Patriots? Second-year man Jarrett Stidham, who played in three games (no starts) and threw four passes, none for touchdowns and one for an interception (to the Jets' Jamal Adams in Game 3) as a rookie? Or will the Patriots trade for a veteran, sign an experienced free agent or draft their next starting signal-caller next month?
And how well-equipped will the Pats then be to do battle with the rest of the division? With Sam Darnold, set to start his third season at the Jets' offensive helm? With Josh Allen, also a third-year starter for Buffalo, which has made the playoffs two of the past three years? With Ryan Fitzpatrick, Josh Rosen or a high-draft selection in Miami, with the Dolphins also eager to show they are players again in the division?
As Gase said in February, "It's hard for me to even say anything" about New England. "I don't know what their team's going to look like until we start the season."
For now, with the future uncertain not just because of who replaces Brady but also due to the coronavirus affecting all teams' offseason schedules perhaps on into the summer and the preseason, the Jets and their fans can get a little comfort on some of the successes they had against No. 12 over the years.
2002 — In Game 15, in the teams' first meeting in new Gillette Stadium, they pulled away on the strength of Chad Pennington's three TD passes for a 30-17 win. One win later, the Green & White had won the AFC East title and a first-round playoff bye.
2006 — After their bye week, the Jets returned to Foxboro to post a 17-14 success, sealed with Pennington's late TD pass to Jerricho Cotchery and Ellis' last-play midfield sack of Brady.
2010 — The sixth-seeded Jets scored their improbable 28-21 divisional round playoff upset of Brady and the top-seeded Pats at Gillette with Mark Sanchez distributing short TD passes to three different receivers.
2015 — Eric Decker's 6-yard TD catch from Fitzpatrick, his third TD pass, and Deck's ensuing "Meadowlands Leap" secured the Jets' dramatic 26-20 overtime win over the Patriots at MetLife Stadium.
These memories and others don't diminish the Jets-Patriots rivalry that Brady dominated. True enough, he won 30 games as the starter vs. the Jets, including playoffs, while the Jets won seven.
Yet it's also true that only one other NFL opponent besides the Jets defeated Brady more — Miami with 12 wins and 23 losses (including a 2-3 mark during Gase's tenure as Dolphins head coach from 2016-18).
And it's truest of all that with the 2020 season ahead, the AFC East has undergone a sea change as the division, for the first time since 2001, is Brady-less. So the Jets and their Green & White faithful can only wish Tom well in his new hometown and new pewter and bay orange colors.
And as Gase said regarding surpassing the Patriots in the standings and in the NFL scheme of things, even without their G.O.A.T., "one of us has to actually figure out how to go and do it."