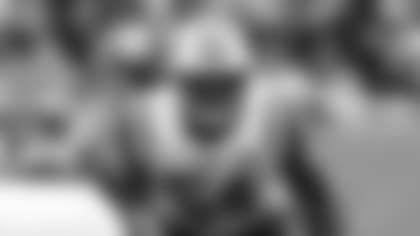 Look Before You Leap
The Jets committed eight penalties in Chicago, seven of which came pre-snap, including four in the first quarter. Not quite how you want to establish momentum early in the game on the road. Linebacker Avery Williamson owned up to missing the assignment that led to Tarik Cohen's 70-yard touchdown catch-and-run in the first quarter, which came on an all-out blitz. Throw in the laundry list of injured players the Green & White are dealing with and you end up having to play almost a near flawless game to beat a team like the Bears at Soldier Field.
Offensively Offensive
No other way to put it, it was a rough afternoon for the offense. The unit had trouble establishing any momentum and sustaining drives. They ended up going three-and-out six times in their first eight possessions and only totaled 98 yards through the first three quarters. The Jets were never able to get much going on the ground either (57 yards on 24 attempts), which would have aided quarterback Sam Darnold and his makeshift cast of wide receivers. I personally would have liked to see them mix in some up-tempo or hurry-up package, but that could be challenging given all the new faces that saw action who may not be as caught up with the verbiage, etc.
Defense Bends
With a little over 11 minutes remaining in the 4th quarter, quarterback Sam Darnold and tight end Chris Herndon hooked up to trim the Bears lead to 17-10. The Jets were back within one score despite not having their A-game all afternoon. The euphoria would be short-lived, however, as Chicago marched 79 yards on eight plays in 4:02, culminating in a Jordan Howard touchdown run to help put the game out of reach. Chicago never even had to face a third down during that sequence. Sometimes you have to play above and beyond when you're short-handed to help steal a game on the road in the NFL. The Jets defense couldn't make that stand.
No Excuse, But…
No player or coach likes using injuries as an excuse when you don't perform well, but the depth on this roster is being put to the test. The Jets played Sunday without RB Bilal Powell (IR), C Spencer Long (knee/finger), WR Robby Anderson (ankle) and WR Quincy Enunwa (ankle). Tough ask for an offense to function minus it's top two wideouts, top running back, and starting center. There's still two more games to play before the bye week rolls around, so it'll have to be all hands on deck until then.
Game Balls
Despite the loss, there were some individual performances that stood out. Tight end Chris Herndon hauled in his third touchdown in as many games and his chemistry with Sam Darnold continues to grow with each passing week. Fellow rookie wide receiver Deontay Burnett had a personal best four grabs for 61 yards, including a 29-yard leaping grab over Kyle Fuller in the fourth quarter. In just two games, the former USC wideout has taken little time reconnecting with his old college QB. It was also good to see safety Marcus Maye back on the field, despite playing with a cast on his injured thumb. Maye's seven tackles tied for most on the team.
On to Miami
The Jets are on the road once again and will begin a three-game stretch against each of their AFC East foes, the first game being the Dolphins in Week 9. They'll be looking to avenge their 20-12 Week 2 loss to Miami while also putting the brakes on a two-game skid. The 'Fins have also dropped consecutive games and are dealing with some key injuries, including quarterback Ryan Tannehill whose banged up shoulder sidelined him the last three weeks. Miami's defense has also surrendered 74 points over the last two weeks, which could help serve as a cure for an ailing Jets offense. If the Green & White can regroup down in South Beach, that would set up an intriguing showdown with the Bills for a chance to get back to .500 heading into the bye week.