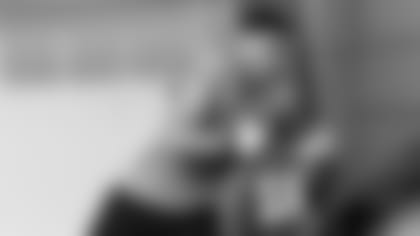 The Jets are one of four NFL teams that will carry an overseas player as an 11th practice squad player in 2019 as part of an expansion of the International Player Pathway program.
The Jets' overseas player is Valentine Holmes, 23, a former professional from Australia's National Rugby League. Holmes (6'1", 200), listed as a running back/wide receiver/kick returner, was notified he will be joining the Green & White when he received a call from general manager Mike Maccagnan this evening.
Holmes signed his first rugby contract with the Cronulla-Sutherland Sharks at 17 and made his professional debut with the club as a winger and fullback at 19. He represented Australia in the 2017 Rugby League World Cup, scoring five tries (touchdowns) in the quarterfinals and then six tries in the semis.
Holmes will start out with a couple of Jets connections. For the past three months, he's been training alongside NFL players and draft hopefuls in Florida under the supervision of the NFL's Will Bryce along with IMG Academy coaches that include former Jets RB/KR Leon Washington and former Jets LBs coach Jim Herrmann.
And Holmes will be added to the offseason roster that includes a fellow Aussie, fourth-year punter Lachlan Edwards. Other international players who've recently made it to the Jets' regular-season roster include Australian punter Ben Graham from 2005-08 and TE Hayden Smith, an English professional rugby union player, in 2012.
All four teams participating in this year's program are from the AFC East, which was chosen to receive these players in a random draw. The International Player Pathway Program was instituted in 2017 and aims to provide international athletes the opportunity to compete at the NFL level, improve their skills, and ultimately earn a spot on an NFL roster.
The four AFC East teams will carry these overseas players on their rosters through the end of training camp. At that time, the players will be eligible for an international player practice squad exemption, granting the teams an 11th practice-squad member who will be ineligible to be activated during the 2019 season.
The three other international players in this year's program are former England national rugby player Christian Wade, who will play with the Bills; Durval Neto, who played DT for four seasons of American football in Brazil and will join the Dolphins; and Jakob Johnson, a former University of Tennessee TE and German Football League player who will become a Patriot.